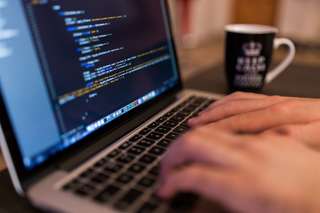 Linux is a now well-known open source operating system. Its great advantage is to be completely free, unlike other operating systems. Particularly stable, it can perform the same tasks as on other systems. But to be able to take advantage of all the resources offered by Linux, it is important to know certain notions, in particular in the Bash language, or to know how to write scripts. This training invites you to discover the GNU/Linux universe and to give you all the keys to become autonomous and use this operating system on a daily basis.
Save and take advantage of the latest deals and tips to buy at the best price.
You will also be interested
Created in 1991 by Linus Torvalds, Linux is a free operating system, whose source codes are open and modifiable. Associated with the GNU project, a free operating system founded in 1983 following the concepts and operation of UNIX, GNU/Linux is now increasingly used as an alternative to paid operating systems such as Microsoft Windows or Mac OS. Today, GNU/Linux systems like Debian or Ubuntu form a complete system ready to use, in particular thanks to their software suites and the development of user interfaces that are more user friendly than originally.
However, Linux does not lose its soul! Programming enthusiasts or developers wishing to modify the source code according to their needs will always be able to do so. GNU/Linux systems also have the specificity of being able to be completely configured and configured. It is then very easy to customize and optimize the system according to your wishes. Office, icons, menus can be configured to infinity. If you are interested in this perspective, you will nevertheless need to master certain aspects, such as using the command terminal and knowing the basics of the Bash language.
Why choose GNU/Linux training?
To discover the open source world of Linux, Udemy offers GNU/Linux training, accessible to beginners and experienced alike. Thanks to fully online courses, you will learn to use Debian and Ubuntu systems and to create scripts in Bash languages. Each theoretical notion is associated with a practical exercise that will allow you to train easily, without the need to install Linux on your computer or to generate a virtual machine. Discover the basic commands, the shell, the man and learn how to manage your files. Go further by discovering the management of processes, processors, memory and disk space, the management of groups and users.
At the end of the training, you will be able to use your Linux system independently. Don't hesitate and take advantage of a 76% reduction on fully online GNU/Linux training!
Interested in what you just read?