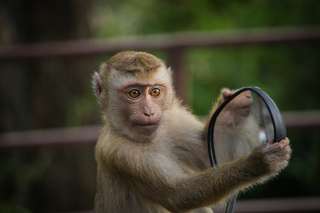 In the United States, a complaint has been filed against Elon Musk about the "extreme suffering" suffered by primates during the tests of his brain implants. Only 7 of the 23 monkeys are still alive.
Whereas his Neuralink project is criticized by many scientists, Elon Musk finds itself today in the sights of a group for the defense of the animal cause. Business Insider reports that a complaint has been filed on the office of the Department ofAgriculture by the Committee of Physicians for Responsible Medicine (Physicians Committee for Responsible Medicine).
This organization claims that it has recovered hundreds of pages of records of experiments conducted by the University of California-Davis where Neuralink operates their primates. In his files, autopsies and veterinarian reports show that testing forimplants brain tests on monkeys are carried out illegally, and that they cause " extreme suffering due to inadequate animal care and highly experimental head implants invasive during the experiments ».
70% of primates died
In total, no less than 23 monkeys were the target of his experiments between 2017 and 2020, and this committee of doctors accuses UC Davis and Neuralink of several violations of the law, whether negligence in the treatment of pain animals or in the use ofanesthésiants. According to them, only 7 monkeys survived his experiments.
We remember that in April 2021, Elon Musk boasted of having succeeded in making play a monkey at the game "Pong", but these revelations clearly discredit his project, and it is hard to imagine him today performing the same experiments on humans. On the side of the laboratory of the university, it is ensured that these experiments were in conformity with " all applicable laws and regulations, including those of the United States Department of Agriculture ».
Interested in what you just read?