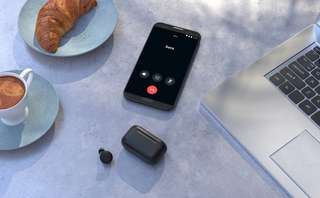 You will also be interested
Many people are unaware thatAmazon offers wireless headphones since 2019. And for good reason, the Echo Buds have until now only been available in the United States. The e-commerce giant has finally decided to cross the Atlantic with this product and announces the arrival of Echo Buds in France from February 24. This is the second generation of Bluetooth headphones fromAmazon which are displayed at 119.99 euros with a charging box USB-C or at 139.99 euros with a box compatible with Qi wireless charging.
The Echo Buds offer an active noise reduction function that can be controlled via the touch interface of the headphones, which also allows you to control the volumereading and activating the mode transparency to hear ambient sounds. These Echo Buds are rain and sweat resistant, which allows use for indoor or outdoor sports. They are equipped with a sensor port that interrupts playback when the headphones are removed and restarts as soon as they are put back in place.
The Echo Buds on sale from 80 euros for the launch
Echo Buds deliver up to five hours ofautonomy when using noise reduction and the Alexa assistant together in hands-free mode, and up to six and a half hours if these functions are deactivated. The box provides two additional charges.
Besides listening to music (Amazon Music, Apple Music, Deezer, Spotify), podcasts and other audiobooks (via Amazon's Audible service), the Echo Buds can also be used to make and take phone calls. They are obviously compatible with the voice assistant Alexa thanks to a passive listening system which allows it to be activated with a simple voice command. The Echo Buds are available in black or white and come with four ear tip sizes and two fin sizes.
On the occasion of the pre-order period which opens today until February 23, the two models are respectively discounted at 79.99 euros (USB-C) and 99.99 euros (wireless).
Interested in what you just read?