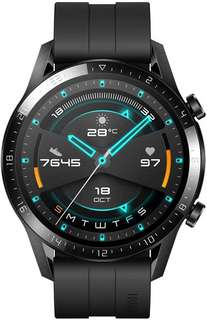 Smartwatches don't just tell the time or give you style. They offer many more features, the watch in particular allows you to monitor your physical condition to more easily achieve your goals and to stay in shape. Amazon is lowering the price of the Huawei Watch GT 2 (46mm) connected watch from €229.99 to €141.30.
Presentation of the connected watch Huawei Watch GT 2
The Huawei Watch GT 2 is compatible with all smartphone models and brands, it has good battery life. The watch is elegant with a metal dial and a plastic case, it looks like a classic watch but incorporates many innovations. Its 1.39-inch 3D AMOLED screen is a sensation and the maximum brightness is good. The silicone strap is comfortable to wear and is not irritating even when wet, it seems resistant to deformation. This connected watch is reliable in terms of measurements and incorporates many sensors (heart rate, altimeter, barometer, accelerometer, gyroscope and an integrated GPS). It tracks the user's sleep like most smartwatches.
An almost perfect connected watch
With intensive use, the Huawei watch is able to last for a week before being recharged, which is a good performance. To recharge it, it will take about 2 hours. The watch is able to give you recommendations to help you improve the effectiveness of your sports training, your sports coach is on your wrist! The Watch GT 2 watch gives precise information about your physical activity such as the number of steps, heart rate, training duration, calories burned… There are many features, this watch is very useful on a daily basis.