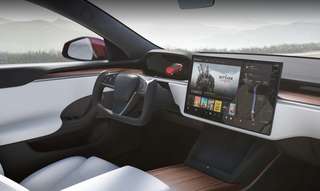 Tesla has never made a secret of its ambition to make its cars rolling lounges where, freed from driving thanks to autonomous systems, passengers can have fun watching films and series in streamingbrowse the Web, sing karaoke or even play their video games favourites.
We're working through the general case of making Steam games work on a Tesla vs specific titles. Former is obviously where we should be long-term.

— Elon Musk (@elonmusk) February 22, 2022
The manufacturer is taking another step in this direction with a project to integrate the Steam streaming video game platform. Elon Musk announced via Twitter that its engineers are working on making the Steam library accessible from Tesla Arcade, the video game space of the infotainment system of Tesla. No availability date has been announced yet.
Ultimately, the goal of Tesla would probably be to monetize access to this type of service. Remember that Elon Musk thinks that his system of fully autonomous driving could be operational by the end of the year. During the presentation of new versions of Model S and Model X, Tesla had indicated that they were on board a new computing platform with a computing capacity of up to 10 teraflops capable of offering an experience equivalent to that of the latest game consoles such as PlayStation 5 or Xbox Series X.