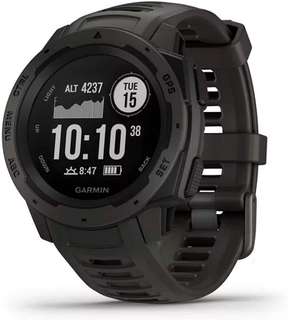 You are an adventurer and you want to track your sports activities, you will love connected watches. Each connected watch has its own characteristics, choose it according to your needs. The Garmin Instinct connected watch is on sale just before Christmas, please a loved one or yourself! Its price goes from €299.99 to €219.39.
Introducing the Garmin Instinct smartwatch
The Garmin Instinct connected watch is specially designed for outdoor activities and is resistant to extreme conditions (water, heat, shocks, etc.). For anyone looking for a rugged (military standard) and reliable watch, the Garmin Instinct will be a perfect fit. It is suitable for adventurers, backpackers and all fans of extreme sports. The watch offers more than 15 sports profiles and particularly for outdoor activities but also for certain sports that are practiced indoors, you can use it for: swimming, running, going out in the great outdoors (skiing, mountain biking, hiking , rowing, etc.). This connected watch has many useful sensors (GPS, AMC sensors, cardio optics, thermometer), it gives weather information and GPS navigation tools are advanced with route tracking.
The strengths of this Garmin connected watch
It is possible to connect the Garmin Instinct watch to your smartphone to receive sms notifications, emails, route sharing… It is designed for military use with a stealth, night, jumpmaster (high altitude drop) and even more. The screen is reinforced, it resists scratches. The autonomy of the connected watch can reach up to 14 days in connected watch mode, which is rather substantial and comfortable and up to 16 hours in GPS mode. You will have access to free training programs to achieve your goals and stay motivated.