The Kia Niro EV has chosen to rest on its laurels. But this is also the case when it comes to charging. A good choice ?
The Kia Niro EV has the difficult task of taking up the torch from a previous generation, which has been a benchmark in its segment, but also in terms of electric vehicles in general. A risky mission, as always for vehicles that arrive after an almost irreproachable elder. In the midst of the technical solutions on the table, the Niro EV has however chosen to review its characteristics in small steps, without significantly improving them. Thus, the WLTP autonomy goes from 455 km to 460 km, and the fast charging speed, despite a lower announced peak, goes from 54 minutes to 43 minutes on the 10-80%.
On the road, it will not disorient the regulars of the model in terms of versatility. We have measured relatively low consumption, allowing it to display correct autonomy. And this despite the presence of winter tires on all four wheels, which generated an average overconsumption of 10% according to our estimates. In the meantime, we observed a range of 283 km on a long motorway journey of 500 km with a consumption of 22.9 kWh/100 km.
Kia Niro EV charging curve: a useful full tank in 44 minutes
The Kia Niro EV now features a maximum fast-charging power of 72 kW, up from 77 kW previously. But the management of the system and the new CATL battery make it possible to better maintain the bearings, and therefore to significantly improve the total time of the operation between 10 and 80% of charge.
However, the Kia Niro has always exceeded the advertised value during our various charging tests, by far. From the start at 10%, it settles at 79 kW and then climbs to 82 kW at 20% battery. Then comes the first step, which is maintained up to 40% where the power is still at 77 kW. The following levels are shorter, and with lower powers. It is at 78% battery that the drop is the greatest, going from 45 kW to 25 kW. It is this last value which is displayed by the terminals at 80% load, ie 69.5% less than the peak observed on this curve.
This power is then retained up to 90% load. However, note that at 81% load, the power plummets to 2 kW. As on a Hyundai Ioniq 5 or, to another extent, an MG 4 (although we did not have an explanation for the latter), this is a procedure to check the condition of the cells. Nothing binding since the drop in power only lasts exactly one minute.
Against the clock, it takes 44 minutes to go from 10 to 80% charge. That's a little more than the MG ZS EV, which benefits from a slightly higher peak and better average recharge power. It takes 18 minutes more to get the 90%, then 33 minutes more to fill up completely. In total, a full recharge from 10 to 100% requires 1 hour 35 minutes of immobilization.
Typical recharge curve

| | | | |
| --- | --- | --- | --- |
| | 10 to 80% | 80 to 100% | 10 to 100% |
| Charging time (in min) | 44 | 51 | 95 |
| Autonomy gained (in km) | 198 | 56 | 254 |
Autonomy recovered: 153 km in 30 minutes
According to our readings, the Kia Niro EV has 283 km of total autonomy on a long motorway journey, or 198 km of useful autonomy between 80 and 10% load. These values ​​combined with the charging curve allow it to gain 153 km in 30 minutes of charging. What was the strength of the older generation is no longer really relevant. Not that its performance is not interesting, but that it is now at the level of some more affordable cars, even some city cars.
In these conditions, the range recovery in 30 minutes is between that of an MG 5 (158 km) and an MG ZS EV (146 km). We are able to think that the results would be otherwise positive with milder temperatures and summer tires, with an estimated gain of 171 km in 30 minutes. He would then regain the advantage on a Peugeot e-208 (161 km in 30 minutes). But that would still be a little less than the lower-segment MG 4, for which we measured 194 km of range in half an hour.
Autonomy recovered

| | | | | |
| --- | --- | --- | --- | --- |
| Charging time (in min) | 15 | 30 | 45 | 60 |
| Autonomy gained (in km) | 85 | 153 | 200 | 221 |
Kia Niro EV charging costs
During our various load tests, the Korean SUV swallowed 47.27 kWh between 10 and 80% load. This is what can be counted by the terminals to establish the invoicing. At full price at Ionity, this represents a total net cost of €32.60. Conversely, at Electra, which still remains one of the affordable ones in terms of fast charging, this represents a note of nearly €20.80. This is equivalent to a cost price per 100 km of €16.46 to €10.50. Note that with less energy-intensive tires, we estimate a 10% lower amount (from €14.75 to €9.41).
Note that the manufacturer offers all its PHEV and EV customers a Kia Charge card. It gives access to a very large network of terminals throughout Europe. The Easy offer does not provide any preferential rate, while the Plus offer allows you to benefit from a 15% reduction, excluding Ionity. To do this, you must subscribe to the Ionity Power offer at €13/month, which drops the price to €0.29/kWh. In this case, the useful charge will be billed at nearly €13.70 according to our readings, i.e. a much lower cost of €6.92/100 km!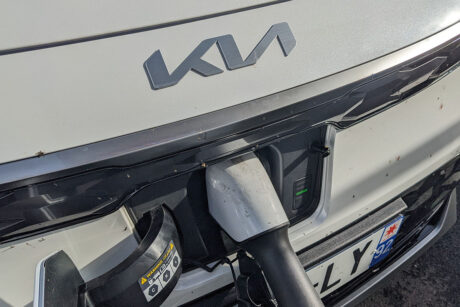 Travel time for 500 km: 5 h 40
Due to its range on the highway, the Kia Niro EV is able to achieve our reference route with only two charging stops. A good performance since the majority of the cars need three well-packed stops to complete this course. ABRP and Chargemap even agree that you have to take two breaks, with a total of 1h13 and 1h21 of charging respectively. Only, they forget to take into account the times of evolutions and connection to the areas, which represent on average 4 minutes per break.
Because to blow up the third refill, it will be necessary to fill up to 90% at the Maison-Dieu area. But the end of charge is slow (18 minutes to go from 80 to 90% charge), which is not necessarily profitable, unless you are completely allergic to rest areas.
Read also
Kia Niro EV: Clean Automobile in the race at the wheel of the new electric SUV at the Riviera Electric Challenge 2022
We therefore made three stops, with a start at 75% in order to take advantage of the full charging power from the first charge. We took breaks at Fastned and Ionity stations for a total of 68 minutes of charging. In the end, this represents a total journey time of 5 h 40. This corresponds on average to the journey times of electric compacts, and it is barely two minutes better than a Megane e-Tech (70 minutes of recharging in total).
Note that if we had chosen to follow the projections of independent route planners with two stops, the journey time would have increased to a total of 5 h 55. Also, note in this chapter that the Kia Niro EV does not have no planner embedded in its navigation. To do this, you have to go through the Kia Charge application on your smartphone, then send the trip to the central screen with the Apple CarPlay or Android Auto functions.
Nobody will mourn tens of minutes on a five-hour journey. Especially since to comfort him, we can specify that it is only half an hour more than with a Tesla Model Y or a Mustang Mach-e. But in the strict game of comparing figures, it is a shame to see that the one who was a reference, does not make more efforts to stand out from the current competition. In the end, with its recharging power combined with its autonomy, the Kia Niro EV comes dangerously close to the benefits of MG products. Proof of this is that the competition from the Middle Empire is ready to fight. But Kia wants to be reassuring, indicating that updates will be possible to improve charging times.
What is the Supertest?
Lovers of numbers and allergic to official data sheets, the Supertest, Automobile-Propre's new test format, is made for you, bringing together data collected during a test in real conditions and according to a transparent and precise protocol. We will add them on the Wednesday following the publication of the second part dedicated to the Kia Niro EV to our summary article allowing to compare the values ​​noted of the models tested, which will make all the value of the section.
If you want to go further, do not hesitate to consult our tests and to exchange with the community on our discussion forum.