The Skoda Enyaq iV 80 has the best range for travelling. Added to this is very satisfactory charging performance!
The Skoda Enyaq iV 80 presented a comfortable range during our long benchmark journey of 500 km: with its average consumption of 24.1 kWh/100 km, we recorded a total value of 320 km, or 224 km on a full tank. useful between 80 and 10% load. Despite the cool temperatures encountered during this test at the end of the year (10°C on average), it enters the closed club of electric vehicles with more than 300 km on this route. We are now testing its charging performance to see if it lives up to its versatility.
Skoda Enyaq iV 80 charging curve: a useful full tank in 27 minutes
Upon its release, the Skoda Enyaq IV announced a maximum charging power of 125 kW. Worse still, you had to put your hand in your pocket (525 € optional) to benefit from it! But Skoda has obviously understood the criticisms made and now offers full power as standard, which now climbs to 135 kW. This allows the SUV to indicate a recharge time (10-80%) in 29 minutes.
Read also
Test – Nissan Ariya 87 kWh: the charging and travel times of our Supertest
And our first test on an Ionity terminal was successful: the Enyaq was able to do its full work in just 27 minutes. And this thanks to a copious charging curve which allows it to claim an average power of 124.4 kW! In our little game of the difference between the promised power and the observed average, it takes the lead in the rankings with a variation of only 8%.
After a short power-up, the electric SUV quickly reached its advertised maximum power, maintained up to almost 40% charge. We were even able to observe during this exercise a peak of 139 kW at 26%. Always correct, the power is maintained up to 60%, before seeing the curve drop to 80% load, where the power is still 78 kW. That is 43.9% less than the peak observed that day. It's very correct, both relative and absolute: only the Nissan Ariya (82 kW at 80%) and Hyundai Ioniq 5 (114 kW at 80%) did better.
In the end, the Skoda Enyaq iV 80 exceeds the manufacturer's announcements. It then takes 11 minutes to reach 90%, and another 18 minutes to fill up to 100%. In the end, the exercise (10 to 100%) requires 56 minutes. He puts himself in second position behind the Hyundai Ioniq 5 (a total time of 46 minutes).
Note that during this exercise, the outside temperature was 7°C as indicated by the car's thermometer. However, after almost an hour of recharging, the heat given off by the battery was such that the car picked up an ambient temperature of 20°C! A funny phenomenon that we have never observed before.
Finally, let's add to this chapter that during our other tests with different operators, the curve was not as constant. We always observed a pyramid profile, like the one we encountered on a Lidl terminal: the rise in power was linear up to 40-45% (128 kW of power at this time) before falling, and we never saw the color of the promised 135 kW outside the Ionity terminals. In any case, we timed a recharge time of 28 minutes on these other terminals, the difference between them being a few tens of seconds.
Typical recharge curve

| | | | |
| --- | --- | --- | --- |
| | 10 to 80% | 80 to 100% | 10 to 100% |
| Charging time (in min) | 27 | 29 | 56 |
| Autonomy gained (in km) | 224 | 64 | 288 |
Autonomy recovered: 233 km in 30 minutes
Remember that we measured an average autonomy of 320 km on our reference route, or 224 km of useful autonomy. The autonomy related to its excellent recharging performance allows it to display particularly interesting ratios: it can recover 233 km of autonomy in 30 minutes, which places it on a par with the Tesla Model Y Performance.
Autonomy recovered

| | | | |
| --- | --- | --- | --- |
| Charging time (in min) | 15 | 30 | 45 |
| Autonomy gained (in km) | 134 | 233 | 269 |
Skoda Enyaq iV 80 recharge cost
During our various recharges, we measured an average of 55.84 kWh delivered by the terminals between 10 and 80%. Taking advantage of a partnership with Ionity, Skoda offers more attractive rates: against a monthly subscription of €9.99/month, the user can benefit from a unit price of €0.35/kWh. This brings the cost of charging to nearly €19.5, or €8.7/100 km on an average motorway journey.
Note that at the Ionity public rate, this represents a cost of €17.2/100 km. Conversely, at Lidl, the latter could drop to almost 10 € / 100 km on the highway, or as much as with a sober thermal. But for that, it would be necessary to wait for the development of the network and a maintenance of prices before drawing any nice conclusions.
Cost of top-ups per operator

| | | | | | |
| --- | --- | --- | --- | --- | --- |
| | Ionity (offre Skoda) | Ionity | Fastned | Electra | Lidl |
| Unit price (€/kWh) | 0,35 | 0,69 | 0,59 | 0,44 | 0,40 |
| Total price (10-80%) | 19,5 | 38,5 | 32,9 | 24,6 | 22,3 |
| Cost price (€/100 km) | 8,7 | 17,2 | 14,7 | 11,0 | 10,0 |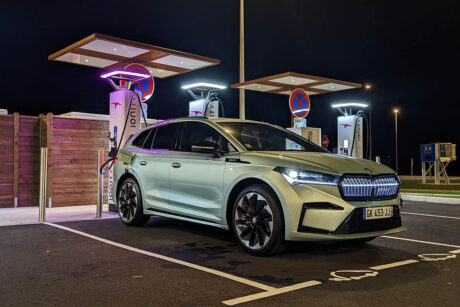 Travel time for 500 km: 5 h 05
With its average useful range of 224 km, the Skoda Enyaq iV 80 could have made the trip with just one charging stop. But that would have meant refueling to 100% almost halfway before hitting the road again, and crossing the finish line with 20% charge remaining. Uneconomical due to downtime at the end of charging, as with all electric cars.
From then on, we planned two refills, with a first stop at the Lochères service area, not without being worried (we arrived there with 4% charge remaining) and a second at the Darvault service area. The latter allowed us to shorten the recharge: in 24 minutes, we reached the 70% mark, which will be sufficient to reach the next area located 182 km further. This is where we will top up 30% to get us to the finish line with 19% in the end. We had to wait 24 minutes on the first recharge and 13 minutes on the second. That is a sum of 37 minutes which, added to the usual travel time, brings the total to 5:05. More comfortable.
Read also
Test – Hyundai Ioniq 5 HTRAC: the charging and travel times of our Supertest
Note that to facilitate journeys, the Skoda Enyaq iV (like most of the other electric vehicles in the group) now offers a complete route planner. It then automatically plans the breaks and gives an indication of the recharging times to be respected before resuming the road. To see more clearly, the map also displays an isodistance zone with the remaining range. However, these predictions, which have the merit of existing (you can view the load rate on arrival for example), are based on previous consumption averages without taking account of the journey to come. Be careful not to be surprised when entering the highway.
With the appearance of this new route planner and increased charging power by a simple update, the Skoda Enyaq iV is leveling up with the current competition and does not have to be ashamed in the face of the tenors of the category that we have already measured this year. Still, it also follows the trend in terms of pricing unfortunately: this 80 version starts at €51,820 and is displayed at €59,100 in the Sportline finish.
What is the Supertest?
Lovers of numbers and allergic to official data sheets, the Supertest, Automobile-Propre's new test format, is made for you, bringing together data collected during a test in real conditions and according to a transparent and precise protocol. We will add them on the Wednesday following the publication of the second part dedicated to the Skoda Enyaq iV 80 to our summary article allowing to compare the values ​​noted of the models tested, which will make all the value of the section.
If you want to go further, do not hesitate to consult our tests and to exchange with the community on our discussion forum.