Accelerate in forward gear, everyone knows how to do it. Doing it in reverse is a more complicated task than only the Rivian R1T is capable of.
Imagine the situation. You have just received your new Rivian R1T and you want to wow the gallery a little with its lightning acceleration (it's the same with most electric cars in fact). You back up a little to charge the people on board, you activate Launch Control and press hard on the pedal. Except you forgot to go back to D, and what should not happen, happened.
This is what happened to American driver Daniel Goldburg, who, after an IMSA test session, wanted to show his friends what his utility has in store. And he obviously discovered that he was able to perform a cannon start also in reverse. What shook the passengers, the Rivian R1T being able to make its 847 hp and 1,231 Nm of torque speak instantly.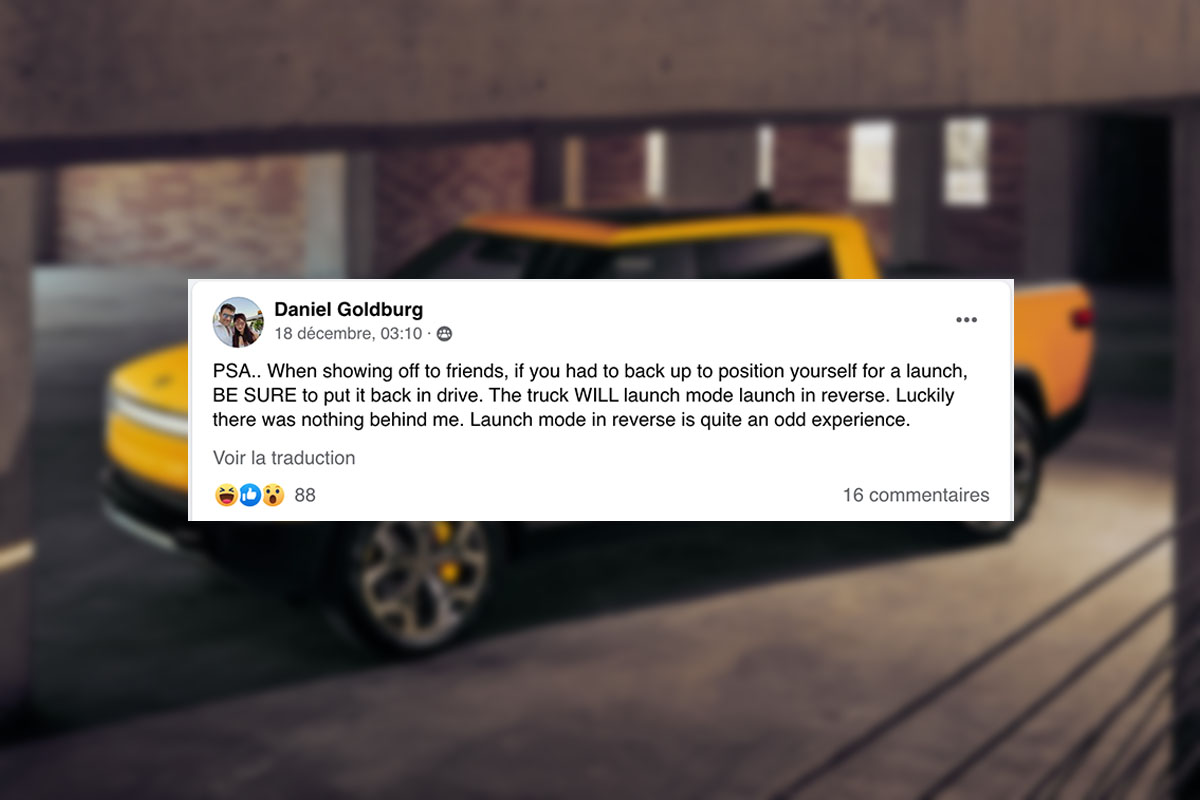 More fear than harm with this Rivian R1T
According to his testimony relayed by The Drive, he estimates that he reached the 30 mph (48 km/h) mark before stopping the Rivian R1T in its reverse course. And this despite the various comments from other owners that indicate that the pickup is limited in this sense to 15 mph (24 km/h). An already high speed, but which is reached much more slowly. The experience of this user is for the moment only an isolated case. At least: no one else has yet discovered this phenomenon, which is difficult to verify in complete safety. But it highlights that a simple electronic malfunction can allow a motor to spin as fast backwards as forwards, which it is perfectly capable of doing in theory.
This will evoke in the minds of some connoisseurs the specificity of the Catheram Seven Fireblade CBR: its Honda 900 CBR motorcycle engine was connected to an inverter to ensure the reverse gears. Which means that it had 6 gears in the other direction. A technical feature that the English were quick to try: Darren Manning won in 2002 a reverse speed record of 165 km/h (102,52 mph).