At CES in Las Vegas, Volkswagen is exhibiting a camouflaged prototype of the ID.7, its first 100% electric sedan. The model promises a range of around 700 km.
Volkswagen plans to launch ten new electric models by 2026. With one ambition: to have an offer connected to all segments. So there will not only be SUVs! The proof with the ID.7, a large sedan, which will therefore be placed as an electric equivalent to the Passat and Arteon.
The ID.7 will be unveiled in the spring of 2023, but Volkswagen came to CES in Las Vegas with a camouflaged pre-series copy. Through this QR Code-style covering, we can guess the shape of the style elements, in particular the headlights and lights. As on the other IDs, the silhouette gives pride of place to curves.
The ID.7 should be close to 5 meters in length. Volkswagen has so far only confirmed the wheelbase size: 2.97 meters. This promises a nice habitability.
Inside, there is a dashboard in the vein of previous series IDs: the presentation is simplified, with a large touch screen in the center which removes almost all physical controls. The screen here measures 15 inches, a size similar to that found in a Tesla Model 3. But the Volkswagen retains some semblance of instrumentation facing the driver. This is housed in the headband which incorporates the aerators.
Read also
More than 1000 km of autonomy for the electric Zeekr 001
Thanks to the key, the vehicle recognizes the approaching driver and starts the air conditioning or heating depending on the season even before the driver gets on board. The use of the air conditioning has been improved: the function appears at the bottom of the screen, without going through a sub-menu, and the capacitive strip which allows you to adjust the temperature is backlit. Voice command is used to activate functions. For example, by saying "Hello ID, my hands are cold", the heated steering wheel turns on.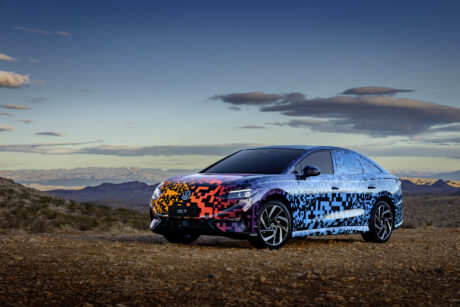 The ID.7 obviously takes over the MEB platform. Volkswagen does not yet go into the technical details, but the car should take over the elements (motors, batteries) of the ID.4. The advantage is that with the same battery, the autonomy is much better here, thanks to much better aerodynamics. Moreover, while the SUV promises up to 530 km, here Volkswagen announces 700 km!
The ID.7 will be a global model, sold in Europe, China and the United States. The version for the European market will leave the factory in Emden (Germany).