With production exceeding 10,000 units for the first time in the fourth quarter, the American startup only narrowly missed its 2022 target.
Like Tesla, which recently announced its 2022 sales figures, Rivian has accelerated its production pace in recent weeks to boost its annual result. Unfortunately, that wasn't enough. With 10,020 vehicles produced and 8,054 deliveries recorded in the last quarter of 2022, a historic record, the manufacturer closed the year with 24,337 electric cars produced, a hair's breadth from the 25,000 units initially planned. Over the same period, the manufacturer indicates that it delivered 20,332 vehicles.
Read also
Rivian: a twin engine with "only" 600 horsepower in 2023
An impressive rise
If Rivian narrowly missed its 2022 target, the manufacturer's growth is nonetheless impressive. As a reminder, it was only at the end of 2021 that the first copies of Rivian's electric vehicles entered production. While production was limited to only 1,015 copies in 2021, the manufacturer has since continued to ramp up, almost multiplying its production volume by five between the 1is and the 4e quarter 2022.
Read also
Ford F150 Lightning test: an aberrant electric pickup!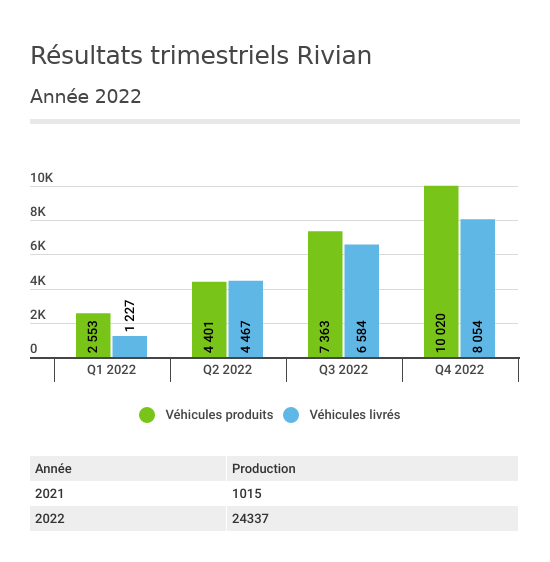 | | | |
| --- | --- | --- |
| | Production | Delivery |
| Q1 2022 | 2 553 | 1 227 |
| T2 2022 | 4 401 | 4 467 |
| T3 2022 | 7 363 | 6 584 |
| Q4 2022 | 10 020 | 8 054 |
| TOTAL | 24 337 | 20 332 |