If Toyota's electric ambitions are still unclear, the Japanese manufacturer took advantage of the Tokyo Auto Salon to present two concept AE86 coupes with alternative engines.
Toyota no longer knows on which foot to dance when it comes to electrification. Casting doubts on the technology, the Japanese group then unveiled a complete electric strategy, to finally backtrack. The Japanese brand is stirring up trouble over its real ambitions. However, if the electric car is openly not at the center of the objectives, Toyota is aiming for carbon neutrality. And this will takes a new trajectory called "carbon neutrality to save beloved cars".
Behind this tender poetry hides above all an observation, according to which carbon neutrality can only be quantified with the sale of new cars. However, according to the presentation of the Japanese manufacturer, these represent only 5% of the total volume of vehicles already in circulation. Which means that, still according to Akio Toyoda, even if all new cars are 100% electric, the vast majority of cars are not decarbonated.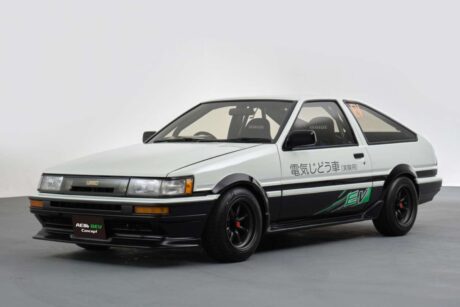 Toyota Levin AE86: a shy retrofit
This is what allowed Akio Toyoda to introduce these two concepts, which surprised everyone at the Tokyo Auto Salon, the great mass of automotive preparation in Japan. The cars that served as the basis are well known to enthusiasts since they are two AE86s, now powered by alternative and more ecological technologies.
The Levin AE86, recognizable by its fixed headlights, has an electric motor. More specifically, it embeds a Prius PHEV battery that powers an electric machine from Tundra HEV, the hybrid version of the pickup. A retrofit in the rules of the art, since the traction chain is attached to the original manual gearbox and to the rear transmission. This will make it possible to deliver "crab" tofu in the greatest of silences.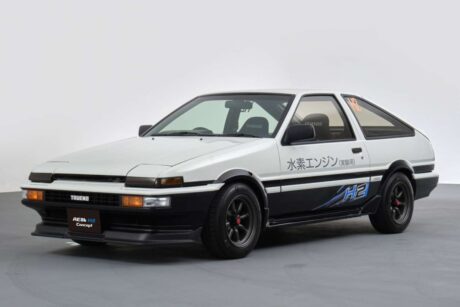 Toyota Trueno AE86: hydrogen to save the old ones?
The second vision is louder since the Trueno AE86, the real drifter of Initial D, retains the 1.6l 4A-GE, but it is now powered by hydrogen. The small coupé receives for this two tanks of Toyota Mirai in its trunk and a specific preparation of the mechanics. This is a nostalgic echo to the Corolla and Yaris GR H2 already imagined by the manufacturer.
However, Toyota has not released any additional information on these two concepts or their future. The Toyota boss, on the other hand, was particularly insistent, indicating that the Toyota Corolla Levin AE86 already had the letters E and V in its name, and that it took the brand 50 years to install a battery in the coupe. A capilotracted declaration, trying to translate a potential electric revelation (revolution?) at Toyota. On the other hand, it is hard to imagine the arrival one day of an electrical transformation kit for these old icons.
Read also
Video – Retrofit: putting an electric motor in an old car, sacrilege or blessing?