Jaguar's electric SUV benefits from a small update, which concerns a few aesthetic elements. The technical sheet does not move.
Launched four years ago, the I-Pace is the subject of a slight evolution (it will be difficult to speak of restyling). The changes are aesthetic…but they're barely noticeable. Already because Jaguar has this new bad habit of publishing very dark photos!
But mostly because it's very subtle. Most notable is the new grille trim. This one is now full on a good part. For Jaguar, it was about simplifying the design of the front end. In this sense, elements painted in black at the bottom of the body are now body color.
But the manufacturer now offers the Black Pack as standard on most finishes (the mirror shells, the contours of the grille and the side glazing are black). You can now also opt for a black roof. In addition, the color chart offers two paints with a satin look. On board, it's the status quo.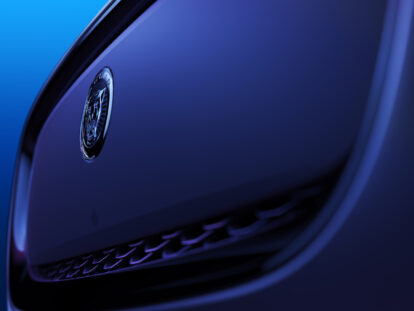 It is the same in the entrails. The power is still 400 hp and the mixed range according to the WLTP cycle is still up to 470 km (there is a 90 kWh battery). The maximum charging power remains stuck at 100 kW, which is not a flattering value these days against the competition.
Anyway, Jaguar seems to have moved on, ie the design of its new 100% electric range. The brand has been running on the economy for almost two years, and will continue to do so in 2023.
Read also
Jaguar is using Formula E for its next electric cars