For the French operator Electra in fast recharging of electric vehicles, 2022 was the year that allowed it to find a place for itself in a field that was beginning to be occupied by companies from other European countries such as Allego, Fastned or Ionity. It will also go beyond borders while continuing its development in France. Co-founder and director of Electra, Aurélien de Meaux explains and answers your questions.
Strong network acceleration
« Our news at the moment is that we are benefiting from a strong acceleration on our network in France, but also in Belgium and Luxembourg thanks to a partnership with the Delhaize supermarket chain. 250 sites will be equipped with our terminals in these 2 countries "says Aurélien de Meaux.
A total of 1,800 charging points should gradually be made available in the car parks of these stores. " We want to develop a network that is as broad as possible, on a European scale. This is beneficial for cushioning technology and supervision costs. Our goal is to have between 1,500 and 2,000 stations by 2030 ».
New countries will welcome Electra : « We are in the process of launching ourselves in Italy where there are more and more electric vehicles, while the charging network there is not satisfactory. We are already making progress in Milan. We are also interested in Spain, Switzerland and Austria ».
45 resorts in France
« We have opened 45 stations in France. We pass the steps one after the other. Since operators like Allego and Fastned come to France, we are not going to deprive ourselves of expanding internationally where we intend to put two thirds of our establishments into service. To date, we have identified 250 active charging points. To succeed in our extension program, we have already secured a lot of sites where we are going to set up reveals Aurélien de Meaux.
The network expands as new contracts are won: " We put a strong emphasis on the user experience, especially on the technical part. Internally, around thirty people work on software development, some of which to meet the needs of fleets. We know how to adapt to requests to which we can respond quickly. This attracted project leaders, allowing us to win a lot of sites ».
Fourth network in fast PDCs
The number of networks increases every year. How is Electra positioned in France? " We are the fourth in number of charging points over 100 kW. We add to our network between 2 and 4 new stations per week. The investment to devote to each is 400,000 to 500,000 euros, with a return on investment that occurs after 6 to 10 years. ».
The construction time remains variable to build a new establishment: " A construction site generally lasts between 4 and 8 months, due to certain constraints. For example the time of connection to the network by Enedis. It will be higher for a connection to be made at 200 meters compared to an access at 20 m ».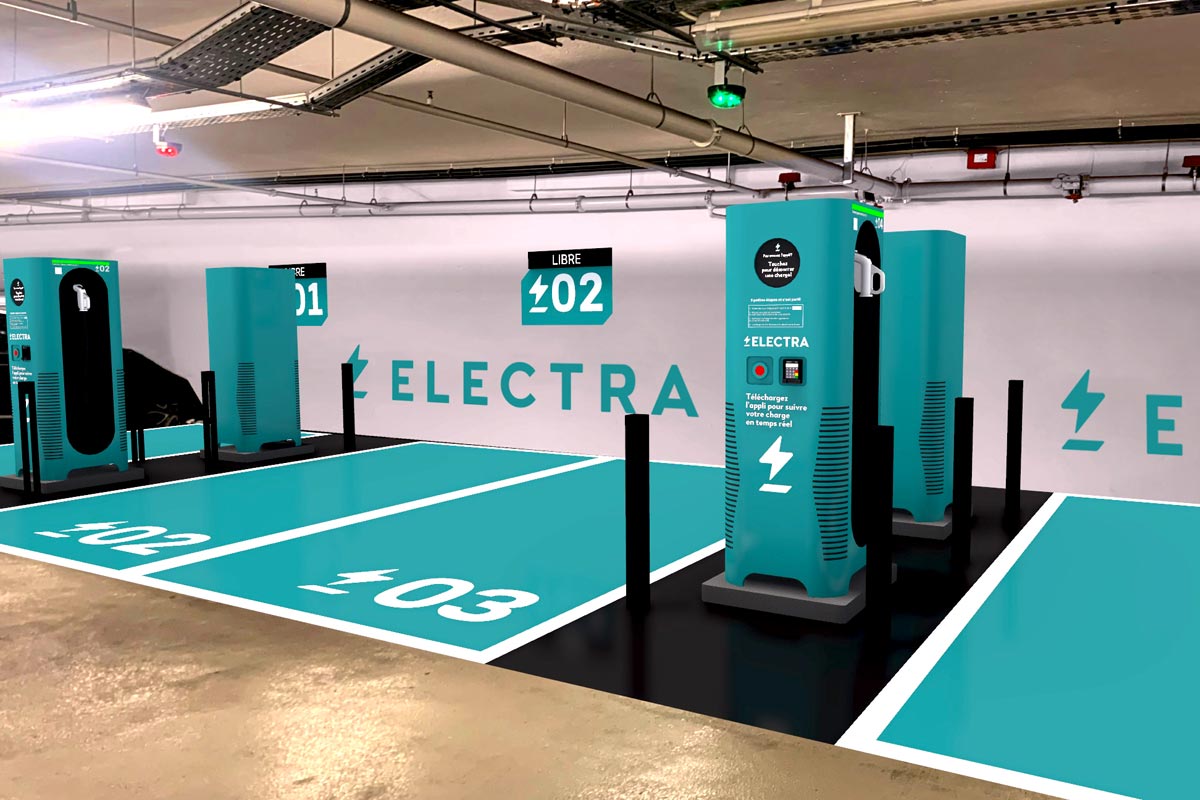 Electra stands out by opening fast charging stations in cities with Indigo. " It's in our DNA to open access to fast charging in urban areas. We have 16 or 17 stations in Ile-de-France. Electra is also the first to have opened a high-power intramural charging station, Porte d'Italie ».
Are other openings scheduled for 2023? " We have planned 6 or 7 this year, including 3 or 4 in Paris and in the inner suburbs, one in Bordeaux and another in Lille. A construction site for fast underground charging is very normative, for safety reasons. Projects therefore take longer to complete ».
User experience
Faced with other meshes, Electra seeks to stand out with a different user experience. " We want to get people excited about electric vehicles, and create mass adoption. The user journey must be facilitated, with very readable pricing, the possibility of paying by credit card, but also of making reservations ».
« This last feature is widely used by taxis, VTC, logistics and vehicle rental companies. Most of these reservations are followed by a recharging operation. Exceptionally, this is not the case. The charging point is then released 10 minutes after the reserved time », adds Aurélien de Meaux.
Although the operator has not planned through stations that would facilitate the recharging of electric vehicles towing a caravan or a trailer, it intends to develop shelters above its terminals. Electra will announce in a few days the Autocharge functionality which allows you to start refueling without having to identify yourself by means of a badge or an application.
A growing team
With the development of the activity, Electra's workforce continues to increase: " We have a total of one hundred people, bringing together the best talents on the market. About forty of them are active in industrial and operational excellence ».
Today, the profiles sought are very diverse: We are in the midst of recruiting. For example, we are looking for project managers, architects, project management assistants, electrical technicians, marketing and human relations specialists. Currently, we offer about twenty positions on the site WelcomeToTherJungle.com ».
With a network that now goes beyond France, positions are available in other European countries: " We have offices in Brussels and Milan. New openings are coming ».
Less expensive cars…
« Electric vehicles are progressing in France. Around 220,000 were newly registered in 2022. That is around 15% of sales, compared to 10.5% the previous year. We could congratulate ourselves for this growth. But also say that about 85% of buyers preferred to opt for thermal or hybrid models. We are not yet on a mass adoption of electric vehicles warns Aurélien de Meaux.
A certain philosophy carries Electra's employees: " We would like the French to no longer ask themselves questions and spontaneously choose electric cars as they still take thermal models. We have 2 convictions to favor this. The first is that electric cars must be cheaper. To lower the price, you need smaller batteries, no more than 40-50 kWh of energy capacity, and not 90 kWh packs. This will also improve the environmental balance of EVs ».
… And a more effective network
Electra's second conviction concerns a de-dramatization of autonomy: " Today, with a thermal vehicle, we do not ask ourselves the question of autonomy, because we know that everywhere in France the tank can be filled in about 3 minutes. It is necessary to replicate this model to the electric ones for which the advertisements mention this radius of action ».
How to achieve it? " We need stations everywhere. However, it is not the number of terminals that counts, but how many cars can be charged with each. This is why it is better to have fast terminals than a very large number of slow ones everywhere ».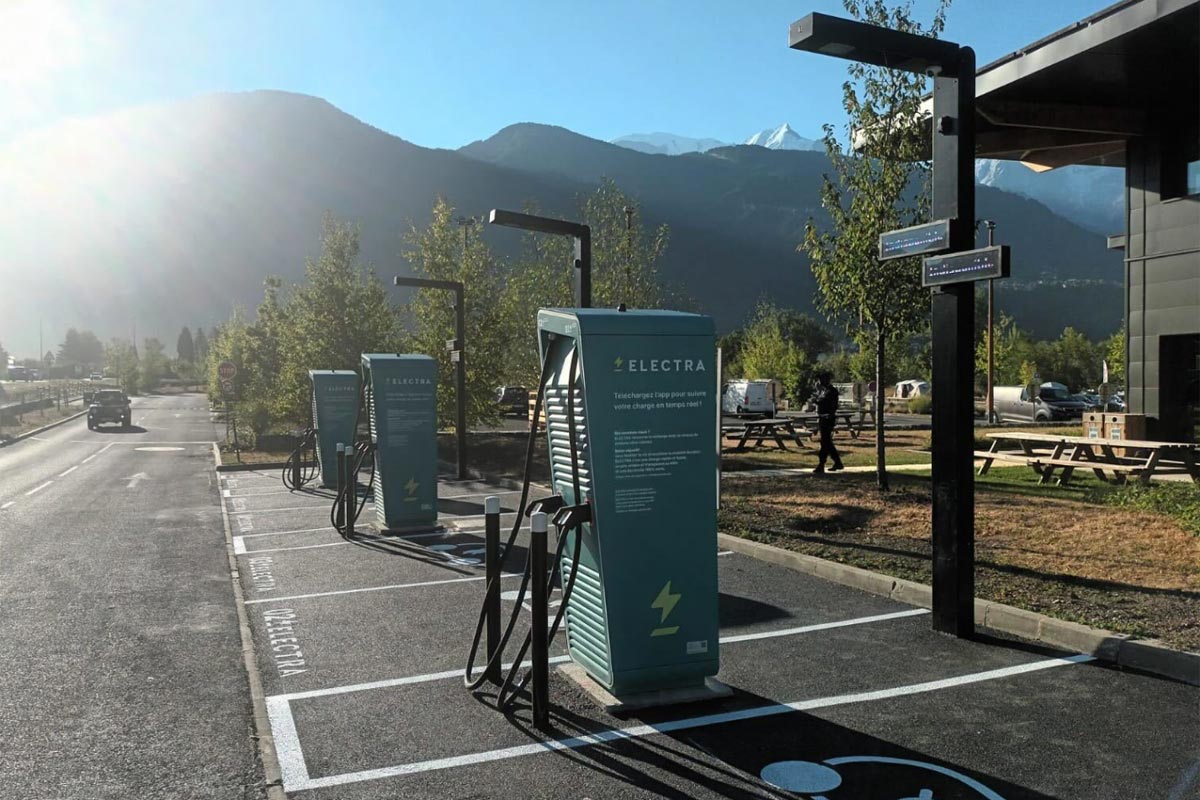 The reliability of operations is also a real concern at Electra: " We enjoy a 98% success rate on our refills. This is 10 points more than the average communicated by Afirev. To achieve this, we have developed the supervision of our terminals ourselves. Before the electrical flow is triggered, there are 80 steps that must be successfully completed. If only one is not, the connection cannot be established. We worked a lot on it ».
0.54 euros per kilowatt hour
The price per kilowatt hour has recently increased at Electra: " We went to 0.54 euro per unit on 300 kW terminals. Which is reasonable for this power. We had to pass on the increase in energy prices, but in a reasonable way ».
What can we expect regarding prices in the future? " The price of electricity is closely linked to that of gas. In August 2022, we were around 1,000 euros per megawatt hour. Today, it is down to 150 euros. This is more of a situational problem than a structural one. Electricity supply contracts are signed over several months. The situation should improve soon ", concludes our interlocutor.
Automobile Propre and I would like to thank Aurélien de Meaux for the time given to answer our questions.
Read also
Automobile Propre attended the launch of Lidl's fast and cheap recharge
Author's opinion
The development of a reliable network for fast charging of electric vehicles is very valuable. All the more so when the operator is French and knows how to take into account needs hitherto rather neglected, such as the presence of high-power terminals in the heart of large cities.
If it is not necessary that it is also carried by Electra, the recharging in alternating current should however not be neglected or minimized. And this for several important reasons.
Today, the share of electromobilists who cannot charge an electric car at home or at their place of work is still low. However, it will be much greater in ten years' time, if the ban on the sale of new gasoline and diesel cars is maintained and low-emission zones become widespread.
To live electric is to live differently. Those who can recharge at home know it well: it's a great comfort not to have to systematically go through a station to top up with energy. This facility should also be reproduced for the benefit of motorists who live in collective housing. If only, as in London, by offering simple sockets on lampposts for local residents.
There is also a technological reason. In a fast station, for a good rotation at the terminals, it is rightly requested not to recharge the battery to its maximum. However, a 100% full tank is necessary from time to time for the proper balance of the lithium-ion cells. Those who do not have access to a socket for this at home or at their workplace will have to turn to the AC terminals available in the public space. More and more of them will know this need in the future.
There is no competition to be seen between fast charging and AC terminals. Both respond to real needs, some of which overlap and others differ. This is why Electra's action for the development of fast charging is one of the essentials of connected mobility. Just like the effort made by the operators who strive to bring the 22 kW AC to life, including the departmental energy unions.
---