Xiaomi makes no secret of its ambitions in the electric car market. Its first model will be a sedan, the first images of which have just appeared on Chinese social networks.
It was not until 2021 that the phone manufacturer Xiaomi launched its automotive project. Work on its factory in Beijing began in the summer of 2022, and marketing is scheduled for the beginning of 2024, starting with a sedan that would compete with the Tesla Model 3 or Xpeng P5. This Xiaomi MS11 could also be one of the stars of the Shanghai show to be held next April at the gigantic National Exhibition and Convention Center.
A sedan, not an SUV
While waiting for this show, the first images of the MS11 seem to have ended up on social networks, even before the usual monthly publication of MIIT. Xiaomi has opted for a sedan, which again proves that SUVs have not yet won the battle, at least in China.
We discover in these images a sedan whose general appearance will not surprise anyone as it responds to the canons of the style of current Chinese sedans. Only sprain? Large front headlights that give it a very different look from that of the Nio ET5 or Neta S. Despite a price target far from the high-end market, this MS11 sports a lidar at the top of the windshield, which now seems to be necessary equipment in the Chinese market.
Little information about the mechanical part. We just know that the batteries will be supplied by CATL and BYD.
The arrival in Europe of Xiaomi electric cars is not yet on the agenda. But it's probably only a matter of time…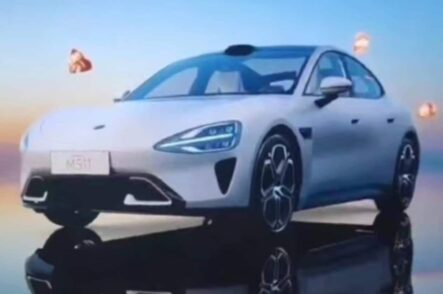 Read also
What price for Xiaomi's future electric car?