Ram is taking advantage of the Super Bowl's XXL audience to unveil the production version of its first electric pickup. But production will start in 2024.
In early January, at CES in Las Vegas, Ram unveiled a concept announcing its first electric pickup. And here is already the presentation of the production version! A Sunday ? Yes, but it's no ordinary Sunday on the other side of the Atlantic. It's the Super Bowl, the grand finale of the American football season.
This event puts about 100 million Americans in front of the television. A huge audience, which Ram wanted to take advantage of: it will broadcast a 60-second advertisement during the match to show the final 1500 REV and announce the opening of the reservation books.
Interested customers will then have to be patient, as the brand confirms that deliveries will only begin in the fourth quarter of 2024. Ram is getting a lot of head start on this point… because it will arrive late in the category. Ford already offers the F-150 Lightning, while Chevrolet will begin delivering Silverado EVs in late 2023. By opening reservations today, Ram hopes to retain customers.
A clientele that may be surprised by the discovery of the series vehicle. The silhouette is less original than that of the concept. In the end, the electrical version is derived from the thermal model. The front and rear parts have been redesigned, with more futuristic-looking light signatures. Thus at the front, the light bars of the optics extend into the closed black grille, which incorporates a large illuminated logo. The front cover hides a trunk.
At the rear, the lights continue on the tailgate. The refueling socket is hidden in the driver's side front fender. The dashboard is taken from the classic model, with a large vertical touch screen at the level of the central console.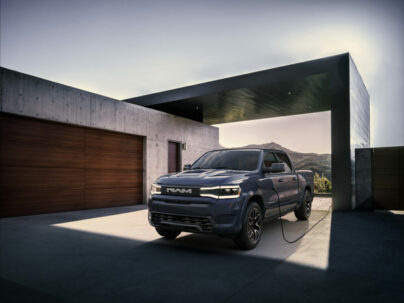 Ram gives almost no technical information. Nothing surprising as we are far from the start of production. We know that the vehicle is based on one of Stellantis' new electrical bases, the STLA Frame. The concept announced an 800-volt architecture, with a direct current charging power of 350 kW.
Read also
Video test – Ford F150 Lightning: an electric pickup with sports car performance