The pioneer of premium hybrid SUVs and the brand's best-seller is back for its fifth generation, offering even more innovations, notably with its new rechargeable hybrid engine.
Impeccable design qualities
The TAKUMI (Japanese master craftsmen), renowned for the exemplary nature of their work, guarantee the excellence of the design and finish of the new Lexus RX 450h+. Everything has been thought out respecting Omotenashi, the Art of Hospitality in Japan, in order to meet the needs of the driver even before he formulates them.
On the design side, the work done on the lines of the RX combines dynamism and modernity. The clean lines are found all the way to the rear of the vehicle with new brand signage highlighted by a light strip running across the entire width.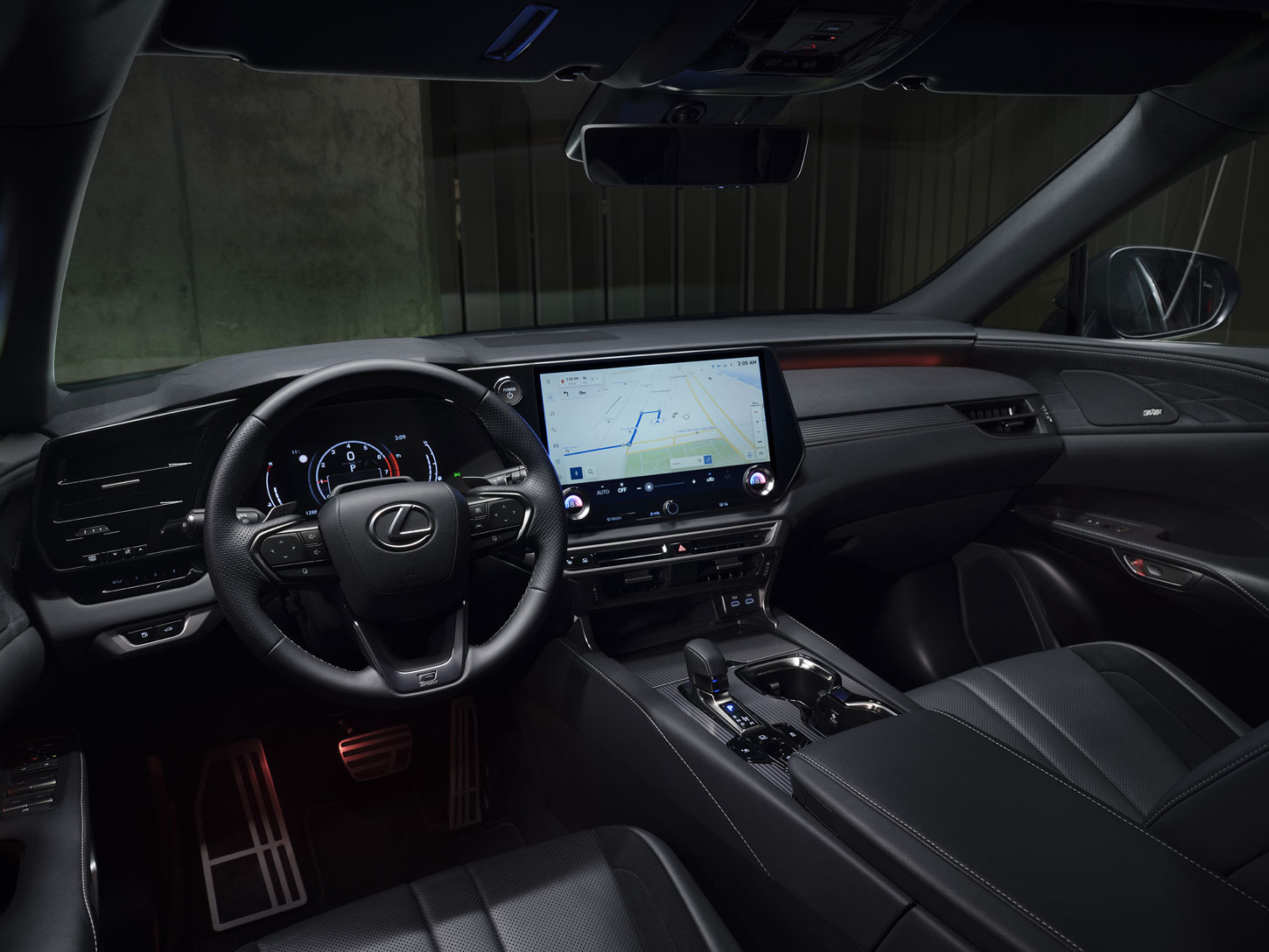 A driving experience focused on pleasure and efficiency
The new RX 450 h+ benefits from the "Lexus Driving Signature", the brand's research and development standard. Everything has been designed around dynamism and efficiency. A lower center of gravity, through the use of the GA-K platform allowing the batteries to be installed under the floor, a stiffened chassis and a new multi-link AVS piloted suspension system, ensure the driver an exceptional driving experience.
The E-FOUR transmission system has also been improved, with permanent activation of the rear electric motor (with a power of 40 kW) for better traction and a surplus of torque. Even the central power unit (CPU), the brain of the vehicle, has been revised to be modernized, lightened and compacted. It allows better yields and optimization of battery cooling while helping to reduce the model's consumption.
A new approach to plug-in hybrids
Without losing its sporty character, with its 2.5-litre hybrid powertrain producing 309 horsepower (225 kW), allowing it to reach 100 km/h in 6.5 seconds, the new Lexus RX 450h+ inherits an XXL battery. With a capacity of 18.1 kWh, it allows approximately 65 km of autonomy in the combined cycle. Once discharged, the system reverts to simple hybrid. Enough to allow Lexus to display the best consumption in the segment. The homologation figures bear witness to this with an average consumption of 1.1 l/100 km in the WLTP combined cycle and CO2 emissions of only 25 g/km.