With around fifty kilometers to cover every day for his home-work trips, Théo Vidal waited for all the lights to be green to go electric. In May 2022, he received his Nissan Leaf in the desired configuration. If he really appreciates using the plugged-in compact, it is not without some small concerns, in particular about the future of the CHAdeMO standard for charging.
Home-to-work journeys
On the very day of his 18th birthday, Théo Vidal obtained his driving license, benefiting from the achievements of accompanied driving. He then received his grandfather's old Peugeot 307 as a gift: " Following small mechanical problems, I had to part with it. I offered myself instead in 2019 a Renault Megane 4 diesel ».
In a way, our young reader already experienced a certain closeness to electromobility: " I am a trustee of co-ownership for a real estate agency. As part of the right to take, there is an obligation to offer the installation of a charging solution in collective housing. In the general assembly, we have had fruitful debates on the subject ».
For his part, Théo Vidal had promised himself to adopt the VE with a stabilized situation: " I work in Lens, about 25 km from my home. The electric car fits perfectly with my use and my needs. I waited until I lived in a house to have one and be able to plug it into the garage. I had a 7 kW terminal installed. The charging hatch at the front was one of my purchase criteria, because the width of my garage is quite limited ».
Sufficient autonomy
To form his opinion on a specific model of electric car, Théo Vidal did not go around the dealerships: " I was able to discover the Renault Zoé with relatives. This model was well within my budget, but I didn't like the design. I was more looking for a sedan ».
For the same reason, he ruled out the Peugeot e-208: " In addition, I was not very convinced by the safe and its prices are high. Design, comfort, range, power: The Nissan Leaf better suited my criteria. So I focused on this car ».
The version with 40 kWh energy capacity for the battery was enough for him: " I wanted sufficient autonomy for my daily trips and to visit my parents in the Oise about 150 km from my home. I wanted to be able to make the trip without stopping to recharge, knowing that I would be plugging my car into a household outlet in their garage to drive away. In summer, I have a range of 280 km. It drops to 200 km in winter, but it's still enough ».
AVAILABLE
Théo Vidal is not one to leave with the first car that comes along, even if it's a Nissan Leaf: " I wanted a new model, but the deadlines were too long. The copies in stock did not suit me. I finally found at the Saint-Omer dealership the Leaf I was hoping for, in a slightly dark gray, with the 360-degree camera and the ProPilot system. This is a February 2022 executive car. I received it the following May with 4,000 km on the odometer ».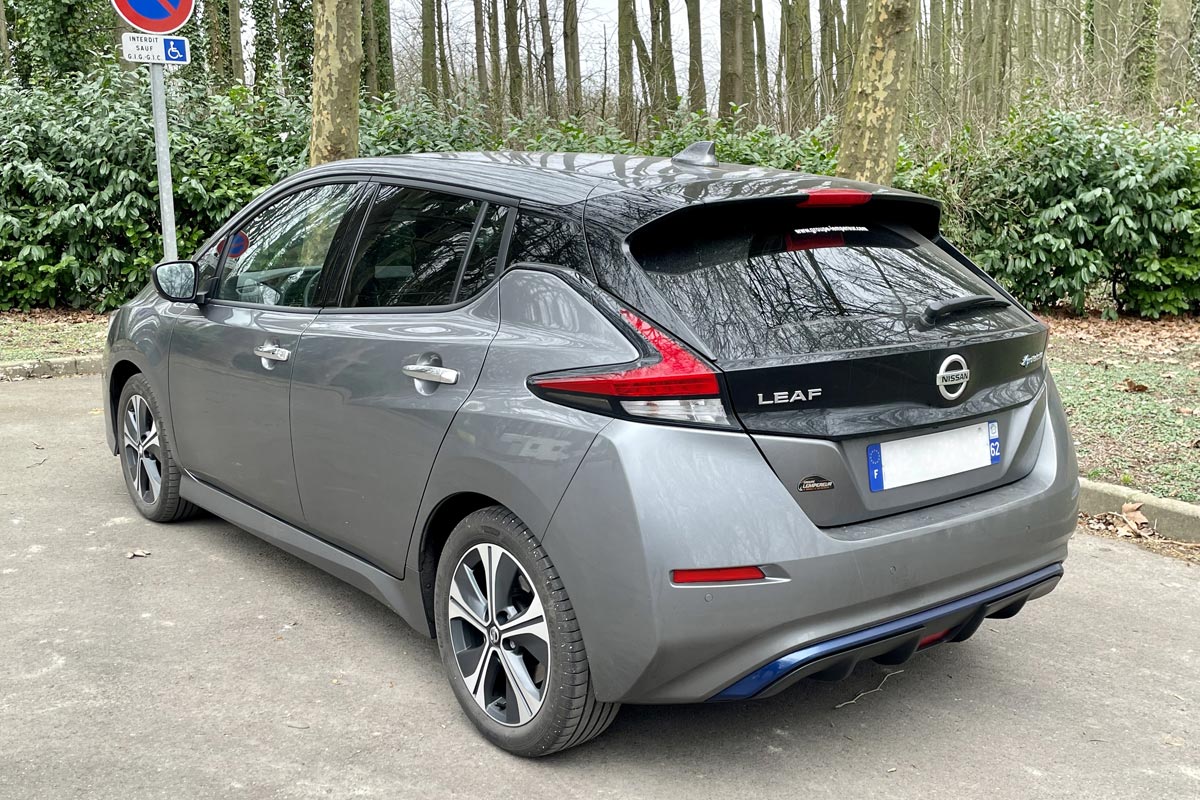 And for funding? " I wanted a LOA and try to take advantage of a white operation with the recovery of my Megane. Thanks to the conversion bonus, I was able to obtain the latter at 14,000 euros, instead of the 16,000 displayed. Nissan took it back from me for 11,000 euros. I was able to get a Leaf Tekna for the price of the lower finish, around 27,000 euros with the bonus deducted. The latter allowed me to pay a first rent lowered to 2,000 euros. The others are 350 euros monthly ».
A convincing car for its surroundings
The Leaf succeeded in convincing the entourage of Théo Vidal: My own mother was quite reluctant about my switch to electric. Since then, she has seen that I am doing quite well. She only has to travel 10 km to get to her place of work. An electric would also be well suited to his situation. My grandfather is also interested in my experience. He made the choice of a rechargeable hybrid for him. He drives electric every day. But for his long journeys, he did not want to undergo the constraint of recharging ».
And with the friendly or professional entourage? " Several of my colleagues already drive electric, mainly in a Renault Zoé, but also someone with a Leaf. I have already transported mine with friends for medium-distance trips. They were impressed by the atmosphere on board, the ease of recharging, and the low cost to make, for example, a round trip to Paris ».
An American boil
Our young motorist would not have signed for a Nissan Leaf if it had kept the style of the first generation: " She lacked personality, was unattractive. Her look would have been a deal breaker for me ».
The manufacturer has therefore done well to review its copy: " The current Leaf isn't an electric car people think of right away. I like its light signature, its plunging bonnet and its fairly low, American-style grille. On the other hand, I am less seduced by the rear which is too high and which is less modern. Except, from the side, with the integration of the lights which allows the well-drawn line above the door handles to end sharply. ».
He finds " practice » the large exterior mirrors of this car. Between Théo Vidal and the Nissan Leaf, it's not just a bodywork story. He is also charmed by the quality of the Bose 7-speaker sound system.
Driving the Leaf
Overall, our reader is particularly fond of the ePedal system which allows you to control the pace of the Nissan Leaf most of the time just with the accelerator, even to immobilize it: " This device is essential for me. It is one of the points that attracted me the most to this car. I drive like this in town and on the road. I hardly use the brake pedal. However, I regret that we cannot modulate the regeneration power. Sometimes I do without it and drive in Brake mode ».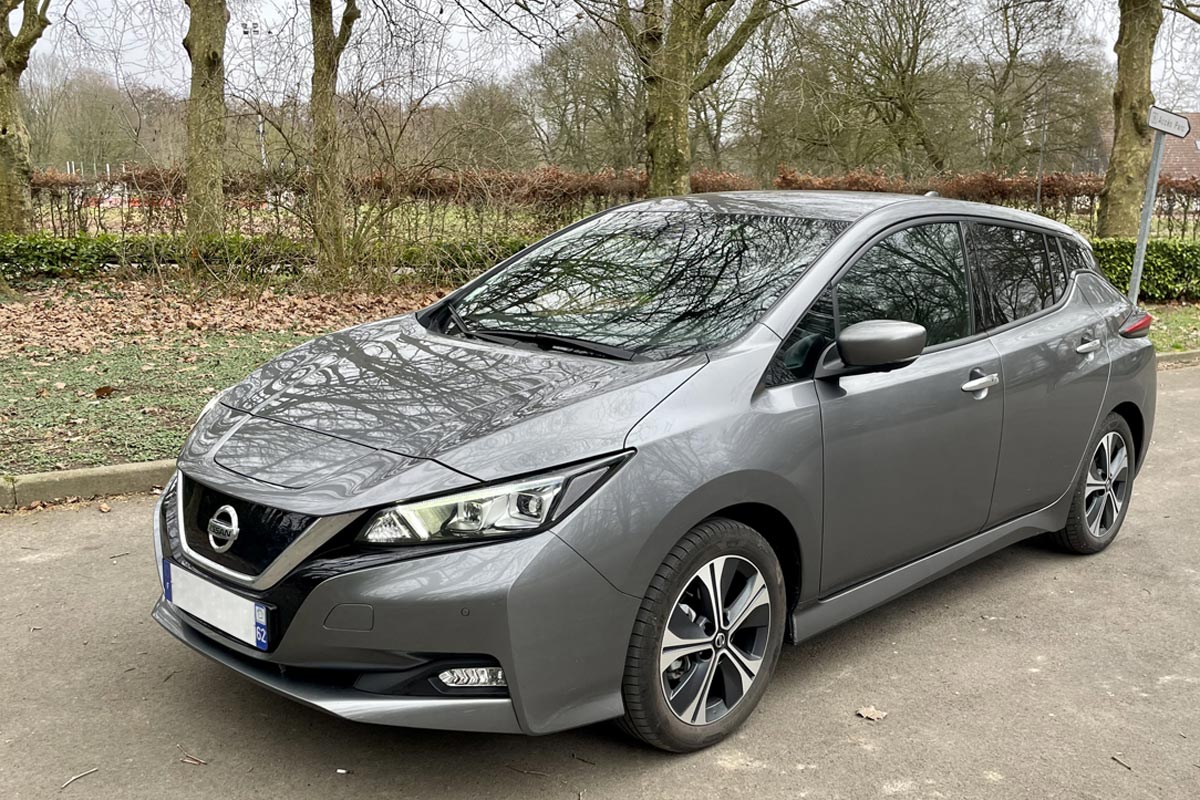 Théo Vidal makes the best use of the line-keeping system: " I mainly use this device on the fast lanes. I do not recommend it on the 2-lane national roads or the Paris ring road. I had a little scare on the latter. Approaching a big bend, the car veered out of the lane. I was driving at 70 km/h. This is why it is important, even with this system engaged, to keep your hands on the steering wheel and to be vigilant. On the highway, the car stays well in the middle of its line: it's impressive ».
The young motorist has much greater confidence in the adaptive cruise control: " I have never had bad experiences with him. It runs smoothly, without jerking. To overtake, just turn on the turn signal and you can feel that the system is preparing to accelerate. ».
Points to improve
His satisfaction with his Nissan Leaf does not prevent Théo Vidal from being critical of certain equipment. Starting with the infotainment system: As on the Toyotas, it is not really up to date. It would need an update to modernize it and make it more practical ».
The endowment of the Japanese compact concerning recharging seems very limited to him: " A 6 kW AC charger is a bit light to use all these 22 kW terminals. For fast charging, the CHAdeMO is a bit more complicated than the Combo CCS. In general, there is only one compatible point in the station. If he is taken, you have to wait. I don't find out, I was well informed before buying the vehicle. We can see all these CSS loaders that are added to the network. I find it hard to see the future of the CHAdeMO standard in France ».
Fast charging, however, is only an occasional need for our reader: " When I have to travel far, I take the TGV or the plane. However, this CHAdeMO connector can block me if I want to go to the Belgian coast or to Brussels. And even if I have someone to pick up at Charles-de-Gaulle airport ».
"A real plus for everyday life"
Testimonials from young electric car drivers are not very numerous on Automobile Propre. This is why Théo Vidal's opinion seems very interesting.
In particular concerning the reasons for abandoning petrol or diesel: " Every small step we take daily for the planet is essential. Driving electric is also more economical. Even about insurance. I thus pay 15 euros less for my Leaf, compared to the Megane ».
In summary : " For compatible movements, and when you recognize yourself in use, you should not hesitate to switch to electric. It's a real plus in everyday life ».
Automobile Propre and I would like to thank Théo Vidal very much for his availability and his testimony.