What could be more frustrating than buying a new electric car and having to wait months before being able to drive it? Fortunately, some brands seem to deliver faster than others. This is particularly the case for Renault, MG and Tesla. Three contenders for first place in sales in France in 2023.
The year 2022 will not have been easy for manufacturers. COVID, shortage of semiconductors, war in Ukraine, lack of carriers… The automotive market is in crisis and customers are not spared. Evidenced by the delivery times that have literally exploded, with sometimes almost a year of waiting (if not more) to receive his vehicle. A particularly long duration, but which nevertheless does not seem to concern all brands. In any case, this is what emerges from our latest survey.
The poll
To better understand the situation, we carried out a survey on our YouTube page. We therefore posed the following question to the community: Did you receive your new car in 2022? If so, how long did it take from order to delivery? Four choices were then possible: less than 3 months, between 3 and 6 months, between 6 and 8 months, between 8 and 12 months, and more than a year.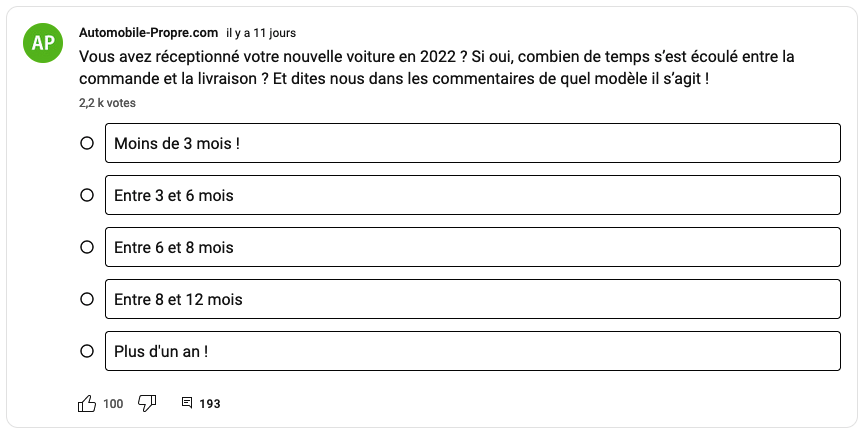 In total, we collected more than 2,200 votes! A number probably sufficient for the results to be representative of the delays usually observed when buying an electric car in France. In the comments to this survey, we learn, for example, that it took 18 months to TommyBoay to receive his Hyundai IONIQ 5, 9 months from MILHAN03 for his Dacia Spring, or another 8 months Sylvainzaccardi4015 for a Skoda Enyaq. So many testimonials that go in the direction of the extended deadlines that some buyers echoed to us. However, if we look at the overall results, only 14% of them have to wait more than a year. The same proportion (13%) waited between 6 and 8 months, while the durations "between 3 and 6 months" and "between 8 and 12 months" collected respectively 22 and 21% of the votes. But against all expectations, it even appears that 31% of voters received their vehicle in less than 3 months.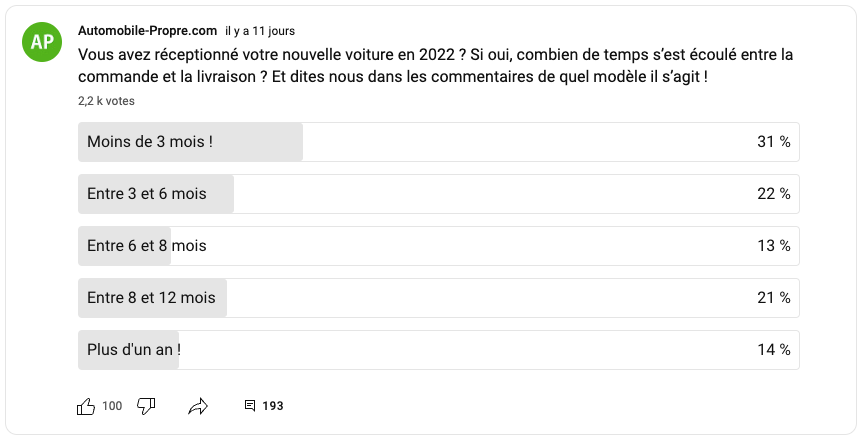 This particularly short deadline made us want to know more about the details of these deliveries. We have thus made a call for testimonials by offering those who have been delivered in less than 3 months to send us an email with a little more details. It thus emerges that among the brands of vehicles delivered quickly, some are more represented than others. Starting with Tesla, which, in November and December, had a lot of stock to sell…
Read also
Video comparison – MG4 vs Renault Megane: a duel to ascend the throne of electric compacts
Tesla
Although deliveries were particularly complicated in the first 3 quarters of the year (some waited for their Tesla Model 3 for almost a year), things finally settled down at the end of the year. We remember that the brand, which suffered many cancellations of orders, did not hesitate to offer attractive discounts (on the Model 3 and the Model Y propulsion) and to offer up to the equivalent of 10 000km of free recharge on the supercharger network in order to liquidate its stocks. It is therefore not surprising that a certain number of buyers have positioned themselves with, as a result, record delivery times. This is the case of Apoptygmaberzerklove for example who ordered a Model Y propulsion on December 22 for delivery on December 28! Nunurs62, he unfortunately did not take advantage of these offers, but was delivered in less than 3 months of a Model Y Performance this time. Ordered in mid-October, he left at the wheel at the end of December. We also remember David who testified on Automobile Propre, delivered at the end of November of his Model Y ordered at the end of September. Even today, the deadlines remain particularly interesting. The Tesla site announces a delay of about 1 month for the order of a Model Y or a Model 3. We know that deliveries occur mainly at the end of the quarter. A logic very different from that of Renault for example.
Renault
When Tesla was suffering in the middle of the year, Renault was smiling, even dancing! If the many Model 3 buyers, frustrated at not knowing when they were going to be delivered, rushed en masse on the electric Megane last summer, it is also and above all because at that time, the delivery times were particularly attractive. Evidenced by Yannick D. who has ordered a Megane in Techno EV40 130hp Standard Charge finish at the end of June, which was delivered at the beginning of September. In the case of an Iconic EV60 220hp Super Charge, it could even go faster if we are to believe Seb C. who also ordered at the end of June, for a reception in mid-July! Obviously, these deadlines, which are particularly short for the period, are not the only arguments that have prompted buyers to opt for this model. The success of the French car can also be explained by its price (at the time of its release, the TM3 was at €53,000 and the MG4 was not yet available), its aesthetics, its finish, its comfort, its compactness , Android Automotive, etc. However, the Renault star would have deserved some improvements to be really perfect. Today, the situation has changed somewhat, and the Megane will probably find it more difficult to find a place, even if the February registration results still place it fifth, just ahead of the MG4.
MG
Barely released, the MG4 is already a great success. It even exceeded the brand's sales forecasts. It must be said that with a starting price, when it was launched, at €28,990 excluding bonuses, customers clearly got their money's worth. MG also has the ambition to go further by releasing a version with extended autonomy later this year, in addition to a 4-wheel drive version. For the time being, the Chinese brand has the challenge of delivering to all its customers on time, and it started off pretty well. Ami82 tells us that he was delivered an MG4 for Christmas, when he placed an order at the end of September. same for me Charlescharles1311, Benjyou4543 or Electrikpit7751 with the same deadlines. But at MG, it is above all the ZS EV and the MG5 that have been cited. Cerise M. received his MG5 in just one month, as it was available from stock. On his side, jeremy l which had a delivery time of 6 months at the base, saw its own after 3 months. The same delays are reported by Raphael K. about the ZS EV. Finally, let's also mention the Marvel R with the testimony ofAnnie S. who placed an order in mid-May, with delivery at the end of June. Now let's hope that with the success of the MG4, it doesn't (too) increase waiting times…
Read also
Electric car: 77% of users will not return to combustion
And the others ?
Besides Tesla, Renault, and MG, other brands were able to deliver in less than 3 months. We have received testimonials for Fiat500e, Volkswagen ID.3, Smart ForTwo, Ford Mustang Mach-e… but these were mostly isolated cases. Generally, these customers had purchased a demonstration vehicle, or benefited from a cancellation of orders. This proves despite everything that it is possible, with any brand, to be delivered quickly.
Just keep in mind that taking non "standard" options will help increase the delays. We will also remember for all practical purposes to check, when placing your order, that you have the possibility of retracting and recovering your deposit in the event of non-respect of deadlines. That said, retracting will take you back to where you started. Sometimes it pays to be a little patient…