Electric trucks are a huge lever in terms of emissions: you miss a single diesel and that's more than 150 tonnes of CO2 less in the atmosphere per year.
It might seem strange to write an entire article about delivering one and only electric truck to the depths of Scandinavia, yet the emissions savings achieved by this adoption alone are nothing short of spectacular. The 66 tonne vehicle was delivered in Verdal, northern Norway, to lime mining company Verdalskalk AS as part of a test program between manufacturer Scania and its customers and will be tasked with to rotate between the quarry and the port located about 10 km apart.
Read also
Electric trucks will dominate the market by 2035
Its mission will be to transport approximately 120,000 tonnes of lime per year. We do not yet know precisely how much electricity this truck will need to perform this task, but we already know from experience how much fuel its thermal equivalent would need: a diesel truck would in fact burn 58,800 liters of diesel in this case. per year, resulting in the emission of 156 tons of CO2.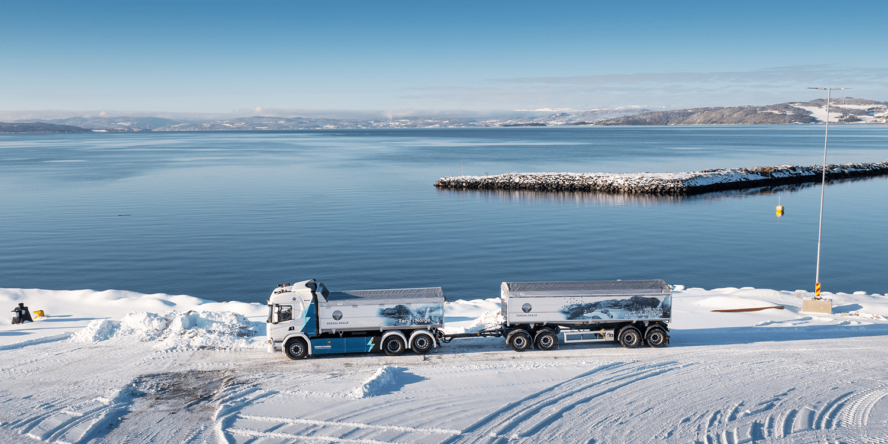 3,500 Nm and a six-speed gearbox!
The Scania P 45 B6X2/4NB, as it is called, carries a total of nine battery packs with a total capacity of 300 kWh and which can be charged up to an output of 130 kW at a station located at the port. Its electric motor sends 612 hp and 3,500 Nm to the rear wheels via a six-speed gearbox. The tractor weighs ten tonnes, one more than its diesel equivalent, the total empty weight with the trailer is 31 tonnes and the assembly can carry up to 66 tonnes of goods. Finally, this unique model will be maintained on site, the mechanics having undergone training directly at the Scania factory to familiarize themselves with the product and the necessary equipment.
Read also
624 kWh batteries and 375 kW charging: Scania accelerates its transition with a new electric truck every year
"We are very proud to be pioneers in this field," says Ketil Aksnes, a representative from Verdalskalk. "This new vehicle also means less noise for residents residing along our 20-year loop and another positive experience."