That's it, the new BMW i4 eDrive35 is out! Break-in just finished, it is on Automobile Propre that you can discover the first test of the electric sedan. So what is the entry-level i4 worth on a day-to-day basis? Our full test of the German anti Tesla Model 3.
Available to order since September 2022, the BMW i4 eDrive35 is now available to the press. The opportunity for us to prepare for you the first test of the sedan, freshly run in after some 900 km. As a reminder, the German settles down in this less powerful version, but also less enduring in terms of autonomy. The ambitions of the Bavarian could not be clearer: to go hunting on the terrain of the Tesla Model 3. But let's not forget, the recent price increases should calm the ardor of those concerned… Let's go for the test, the performance and fuel consumption of the new BMW i4.
The BMW i4 eDrive35 in terms of looks: electric discretion
The wolf in the sheepfold. This is what our BMW i4 eDrive35 test evokes, and for good reason. Because apart from the exterior logos (hood, tailgate, and rims), no "electric" blue to report. You already know it, the BMW i4 retains the visual identity of the brand's thermal models. A Gran Coupé silhouette inherited from the first 4 Series (F36), both sporty and elegant. The dynamic and racy look is therefore there, in particular with our two-tone 18-inch rims. Our color model Skyscraper Grau metallic is done in sobriety. Personally, yours truly greatly prefers this "real car" look to the many electrics in the over-purification trend. Unsurprisingly, and premium positioning obliges, the vehicle benefits from impeccable assemblies and finishes. From the outside, our i4 is consistent with its ambitions.
Understand by this that it would have been more difficult to find a relevant M Sport finish in view of the performance. A bit like a small BMW 1 Series 114d, moreover efficient, but overloaded with purely aesthetic "sports" attributes. And then, sobriety is enough in itself on such a template. Its dimensions: 4.78 m long, 1.85 m wide (excluding mirrors), and 1.44 m high. Count 2.08 m wide with the mirrors deployed. For the small comparison with the Tesla Model 3, we will simply note +9 cm in length. The electric charging hatch is placed on the right, nothing new on that side. If it is placed at the entry level, the BMW i4 eDrive35 remains quite serious and rewarding. Outside, no concessions are made on quality (handles, grille, chrome strips, lighting, etc.).
Read also
Can the new BMW i4 compete with the Tesla Model 3?
On board: high-tech experience, premium comfort
Fortunately, the care taken in the interior is not limited to the sporty top of the range BMW i4 M50. Good news, Deutsche Qualität continues in the passenger compartment of our BMW i4 eDrive35. The car welcomes us in a neat interior, all that is more "thermal". After all, with the i4 being based on the BMW Group's CLAR modular platform, that's no surprise. It also means that the space on board is less "free", as the imposing central tunnel at the rear reminds us. The passenger in the middle is inevitably less well seated than his neighbours. The other four occupants are better settled but confined. Regulars of the brand will appreciate the traditional sporty but comfortable driving position at the wheel of the sedan. The black leather upholstery contributes to the sober but neat atmosphere of this interior.
On the other hand, no electrical settings for our test model. The rest is no less complete. Center console, black lacquered inserts… It's clean. On board, we will even admit a perceived quality superior to the current thermal big sister Series 4 Gran Coupé. But the big piece is obviously this particularly flattering double screen, all in width. 12.3 inches for the digital instrument cluster, and 14.9 inches for the central touch screen. The latter is not only responsive and fluid, but above all maximizes the CarPlay and Android Auto experience. The extended display is in any case comfortable for everyday use. For its part, the handset takes up the classic Sport, Comfort and Eco Pro interfaces of this BMW i4 eDrive35. Special mention to the head-up display, which is versatile and customizable. We will still make sure to lower the brightness at night.
Electrical performance: sufficient for everyday use
Only small frustration on board? Equipment available as "in-app purchase" on the BMW ConnectedDrive Store. For example, the automatic high beam control is there, but the functionality is not activated. An operating logic that we will have to get used to anyway. Let's move on to performance. The BMW i4 eDrive35 is a propulsion (like the eDrive40) of 210 kW / 286 hp for 400 Nm of torque. Enough to bring down the 0 to 100 km / h in 6 seconds, like its Californian rival with an equivalent configuration. At the wheel and underfoot, our i4 is more than enough on a daily basis, with all the advantages of an electric vehicle. Absolute silence, immediate responsiveness at start-up and during insertions/overruns. It's lively, it's reactive, and propulsion requires, it even keeps fun! Accustomed to the brand, I find there the personality inherent in the rear-wheel drive. Electric certainly, but still "behemoth".
In dynamic driving, the BMW i4 eDrive35 knows how to be precise and locked. There is a margin before rolling on a roundabout. In Sport mode, available power and mapping are enough to drive us from behind without forcing too much. However, this does not prevent it from remaining reassuring and very healthy in the rain. Very easy steering, damping a bit firm on degraded road surfaces but comfortable overall, the sedan is pleasant on a daily basis. Thanks to the rims in 18. The i4 knows how to be pleasant in town, we evolve with serenity while enjoying the visibility from the driving position. We will still remain attentive to our environment during U-turns. Because with a turning circle of 12.5 m, it will take a little more vigilance than in compact. Especially with a relatively low riding position.
Read also
BMW wants "sporty DNA" in its i4 electric sedan
Fuel consumption and range: up to 400 km?
But what interests us above all is its autonomy. Especially after the measurements of the eDrive40 in our specialist's Supertest. The BMW eDrive35 is equipped with a 68 kWh battery (70.2 kWh gross) and claims 483 km of autonomy. During our test week, we favored the Eco Pro mode with energy recovery set to "Adaptive". Moreover, we would have liked paddles on the steering wheel to directly manage the level of regeneration. On some urban routes, mode B allows us to switch to "one pedal" from time to time. In town and on expressways, the adaptive cruise control is required for optimal management of revving and smooth deceleration. Moreover, our good eco-driving practices are limited to moderating our accelerations and anticipating our braking to minimize demand and maximize recuperation.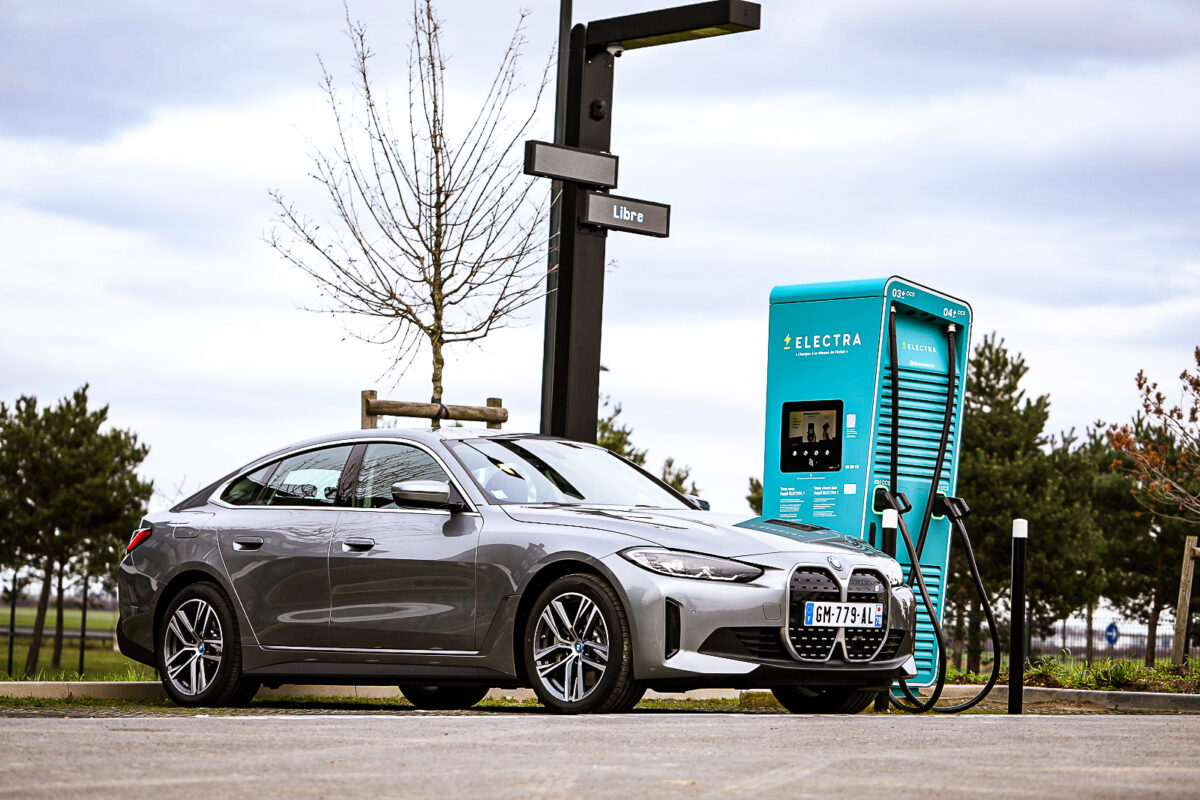 At the wheel, there is a feeling of heaviness during very "eco" starts, however, attributable to some 2,065 kg of the beast. By bringing together these different criteria, our first mixed cycle allows us a range of 400 km. This corresponds to an average consumption of 17 kWh/100 km all round. By using and abusing mode B in the city, we reach 425 km or 16 kWh/100 km. Perfectly flat roads being just a sweet dream, here are some consumption measures whose impact is far from negligible. Especially on the expressway, from the Paris ring road to the motorway.
| | | |
| --- | --- | --- |
| Speed ​​(regulator) | conso (plat) | Conso (false dish) |
| 50 km/h (constants) | 12,8 kWh/ 100 km | 15,2 kWh/ 100 km |
| 50 km/h (ville) | 16 kWh/ 100 km | 16 kWh/ 100 km |
| 70 km/h | 14,5 kWh/ 100 km | 18 kWh/ 100 km |
| 90 km/h | 17,8 kWh/ 100 km | 20 kWh/ 100 km |
| 110 km/h | 18,5 kWh/ 100 km | 23 kWh/ 100 km |
| 130 km/h | 24 kWh/ 100 km | 30 kWh/ 100 km |
Expert on its heat engines, BMW proves its control of consumption on its electric motors. If the promised 483 km remain optimistic without either being an absolute fantasy, mixed daily use allows us about 400 km. On a long motorway journey, the 24 kWh/100 km at 130 km/h allow 283 km between two recharges.
| | |
| --- | --- |
| consumption | Autonomy |
| 24 kWh/ 100 km | 283 km |
| 19 kWh/ 100 km | 357 km |
| 17 kWh/ 100 km | 400 km |
| 16 kWh/ 100 km | 425 km |
Finally, the BMW i4 eDrive35 is just as good at charging. And this even if its power peaks at 180 kW against 205 kW for its counterparts eDrive40 and M50. With the BMW Charging Pass card provided, we operated the Electra (peak at 75 kW) and Ionity (peak at 180 kW) stations, both in CCS. Here are our different charging times.
| | |
| --- | --- |
| Recharge | Loading time |
| 10 to 80% (peak 75 kW) | 46 min |
| 10 to 80% (peak 180 kW) | 33 min |
| 100 % (pic 75 kW) | 2h20 |
BMW i4 eDrive35: from €57,550
If the BMW i4 eDrive35 is efficient and effective for everyday use, the question of price remains. A few months ago, the starting €53,550 was enough to attack the Tesla Model 3. That was without counting the price increase at the start of 2023, which brings the entry ticket to €57,550! On a personal level, however, yours truly would choose this i4 and its dynamic qualities without hesitation. An electric hidden among the thermals, pleasant with its traditional approach. But at €4,000 more now, and on a more pragmatic level therefore, the Model 3 retains serious arguments. And that's not counting its recent price cuts! One thing is certain, by staying within this price range, there is more than match! Note, however, that our test model adopts rims, paint, and on-board options that increase the bill to €64,415. And you, what do you prefer?
Read also
Video testimonial – Why Alexandre chose a BMW i4 and not a Tesla Model 3
---