Try Tesla Model Y?
Build your Tesla Model Y vehicle or request a free trial.
The new vintage of the Tesla Model Y propulsion embeds a BYD battery, which allows it to have a very fast recharging speed.
Despite Elon Musk's strong criticism of the Chinese manufacturer in the past, Tesla and BYD have just shaken hands over an industrial partnership: the Chinese manufacturer now supplies the LFP cells to compose the Tesla Model Y battery pack Propulsion. The data sheet does not change, but in practice, refills become faster.
Except for a slightly lower raw capacity (58 kWh against 60 kWh), the BYD unit displays the same maximum charging power of 170 kW. However, it proves that we should not rely on this value alone. This is shown by a charging curve published on German TTF forumwhich clearly shows the changes.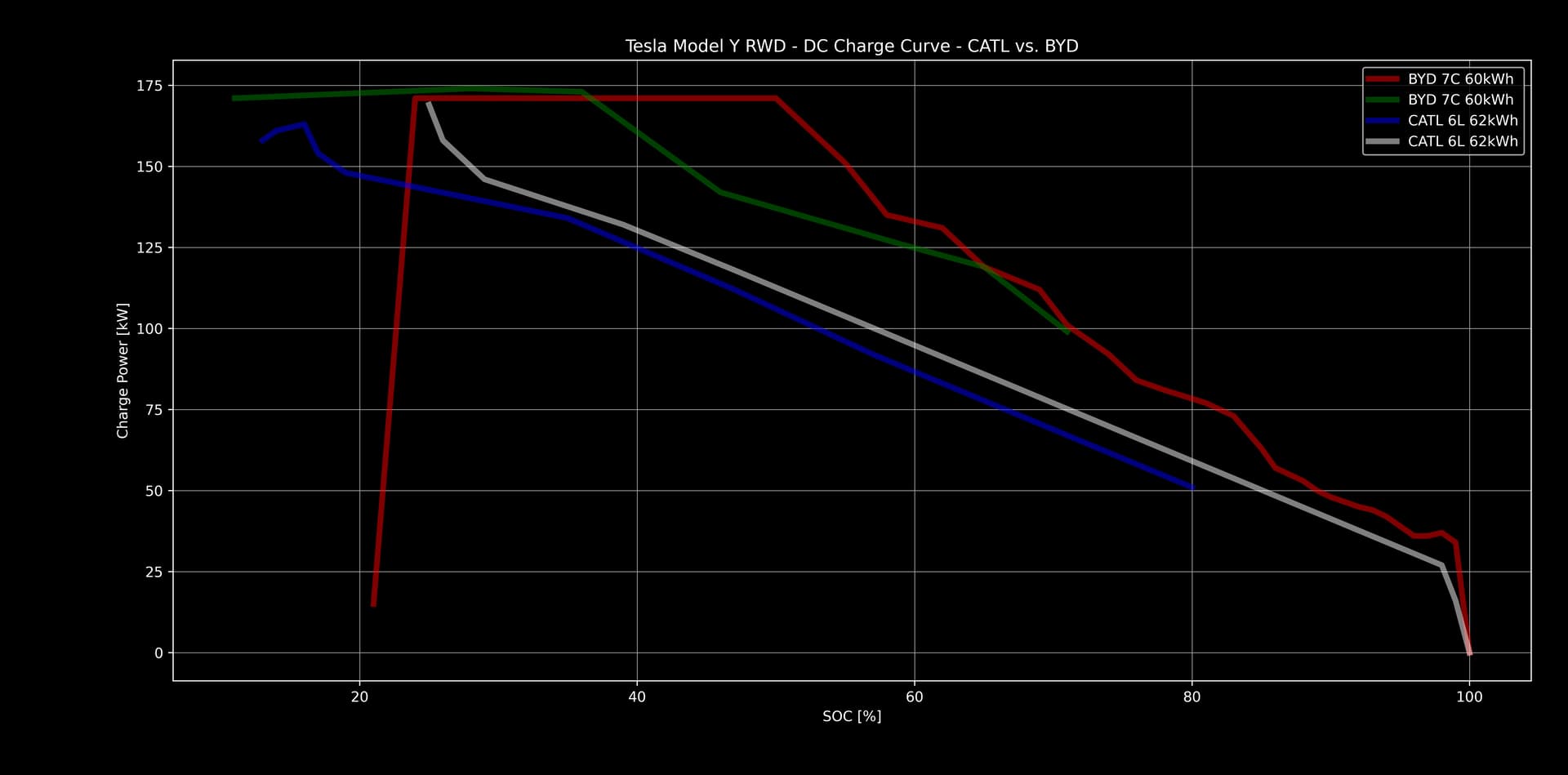 A 10-80% in less than 20 minutes for the Tesla Model Y?
While the previous CATL battery had a fleeting power peak, the BYD module is more enduring. On this recharge curve (in red), we discover that the peak is maintained up to almost 50%, before falling slowly.
This curve with a pleasant profile (it evokes that of the Tesla Model S Grande Autonomie which we were able to measure exclusively) makes it possible to reduce recharging times. It remains to know the exact recharge time between 10 and 80%. But according to some testimonies, the SUV would be able to go from 20 to 80% in just over a quarter of an hour. It would then take less than 20 minutes to do the 10-80%. On paper, it's as fast as with a Hyundai Ioniq 6. In practice, the average charging power is logically much lower: we roughly calculated a value of 130 kW, which would place the SUV in the very good market average.
Read also
Tesla starts production of BYD battery-powered Model Ys at its Berlin factory