The Chinese manufacturer BYD has once again broke its monthly sales record in August 2023. The brand delivered 274,386 electrified models (BEV and PHEV combined), an increase of 57% compared to August 2022.
274,386 electrified vehicles delivered in one month
The Shenzhen auto giant continues its meteoric rise. This is the seventh consecutive month of growth for BYD. In detail, the Chinese company sold 145,627 100% electric vehicles (53%) of total sales in August) and 128,459 plug-in hybrid vehicles (47% of sales over the period).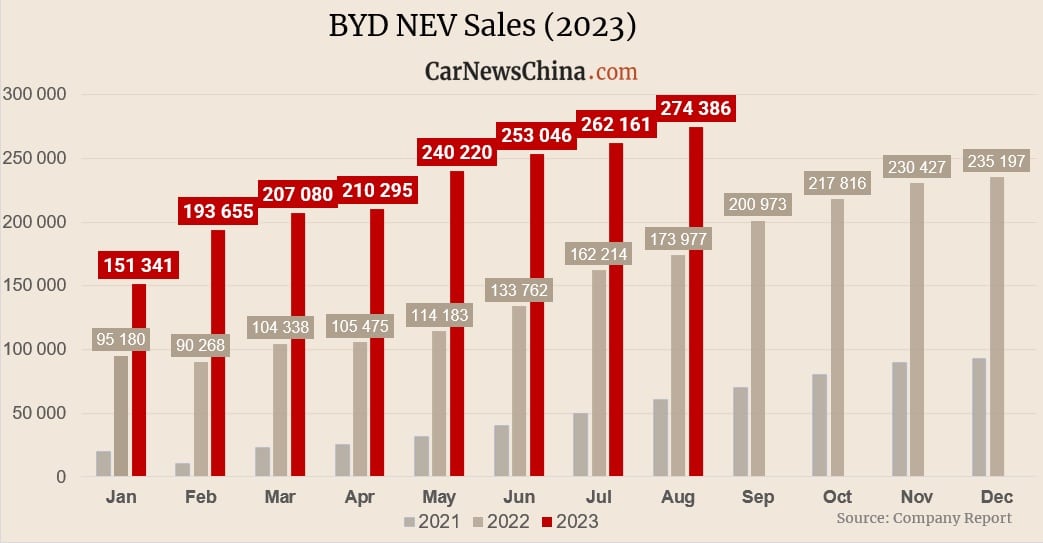 Of the 274,386 vehicles delivered, BYD exported 25,023. This is more than double compared to June 2023. Exports are accelerating and it is the Atto 3 which plays the role of engine in this strategy. The brand's model even topped electric sales in Sweden in July 2023 with a total volume of 721 units. In front of the Tesla Model Y.
Read also
Essay – BYD Seal: what the seal!
BYD is implementing a very aggressive strategy to penetrate new markets. Especially in Europe and the UK. But also South America with Brazil in sight. The brand recently launched the BYD Seal there. Among the markets of interest to the Chinese are also the Middle East with Israel and the United Arab Emirates. China is aiming for 4 million units for export in 2023.
BYD targets 3 million units delivered by 2023
This year, BYD has therefore already delivered 1,792,184 vehicles, an increase of 83% year-on-year. The Chinese brand, which dominates its domestic market in the electrified vehicle segment, hopes to exceed 3 million cars delivered in 2023. According to several analysts, BYD could even reach 3.6 million. A perfect demonstration of China's manufacturing power.
Note, however, that the price war has had a slight impact on BYD's growth. During the second quarter of 2023, the Chinese manufacturer marked its weakest growth since the first quarter of 2022. Its turnover only increased " what by 67%. Not enough to prevent the brand from doubling its profits (860 million euros) and selling very large volumes.