We now know that Ford dreams of a backup battery system mounted on the roof of its vehicles. The brand has filed a patent to develop a technology that would allow its electrified models to gain autonomy.
An additional battery on the roof, really?
Car manufacturers are redoubling their creativity to improve the performance of their electric vehicles. This is not the first time that Ford has used an additional system to increase the capacity of its batteries. The American company has, for example, already considered putting batteries on a trailer to improve the performance of its F-150 Lighting in a towing situation. Ford is now relying on a battery mounted on the roof of its vehicles for adventurers.
The idea may never succeed, but it is proof that the manufacturers rack their brains. Having a removable backup battery that you can easily mount on the roof of your electric vehicle could be very useful when camping or in the desert. This latest patent spotted by Lightning OwnersFord describes speaks of a " emergency battery for an electrified vehicle which can be mounted on the roof ". But is it really feasible?
Read also
Electric car: with this portable battery, you will never run out of range
The first clues of an electric Bronco to come?
On the sketches released by the brand, we see a roof rack equipped with a system that includes several modules including a backup battery, a cord and a connection port. Once the charging system is activated, the driver can use the cord to plug into their vehicle's charging port to recharge the battery. A system that could be rented on an ad hoc basis to go on an adventure or simply on vacation.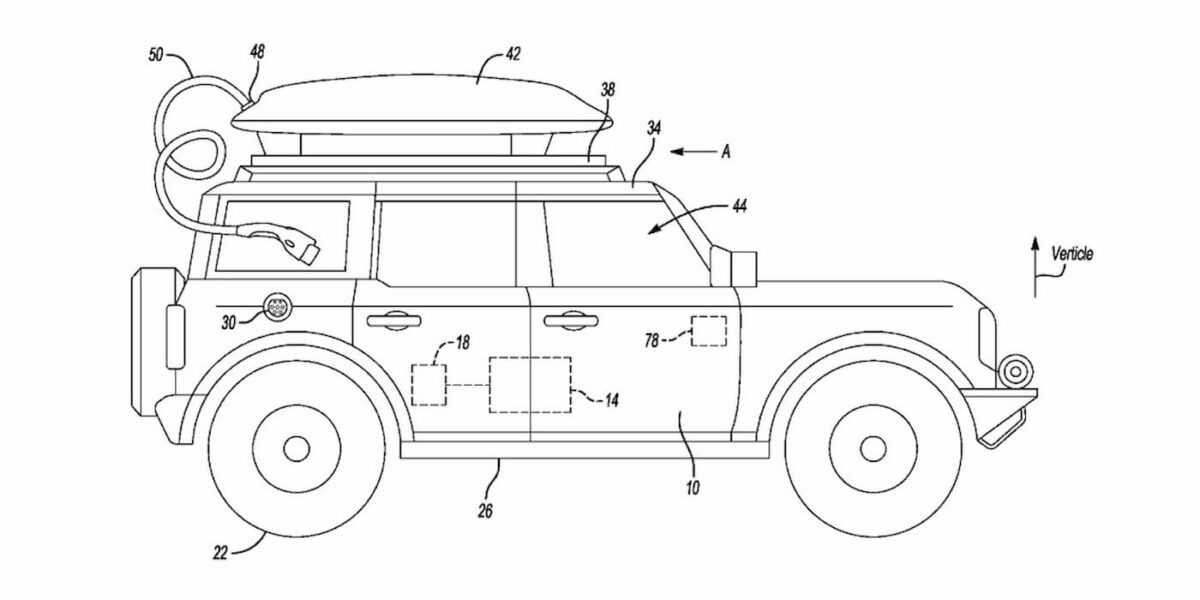 By the way, we recognize the Ford Bronco on the drawings published by the brand. Maybe a clue about the upcoming arrival of a 100% electric Bronco? More than 120,000 Broncos were sold last year in the United States and Canada. It's Ford's fourth-best seller in 2022 behind the F-Series, Explorer and Escape. 4×4 capable of venturing into difficult terrain are on the rise. It would therefore not be surprising to see an electric Bronco arrive in the coming years.
Author's opinion
The value proposition is good: an additional system would be very useful to 4×4 owners who go out into the wilderness for several days. On the other hand, the idea of ​​a battery mounted on the roof seems unfeasible to me. I don't see how such a heavy battery could fit on the roof of a vehicle. How would the driver set it up? Need a crane? A battery for an electric vehicle weighs about 500 kg. The roof should also be reinforced. In short, even if this is only a patent and this technology may never be developed, I think that there are other ways to increase the range capabilities of electrified vehicles. Solar energy for example.
---