Although his name is not necessarily known to the general public, Jan Kempynck was highly sought after for designing and/or preparing engines which have won 27 championships and 457 car races. His transition to the electric car has created some misunderstanding around him. He explains.
Four generations of automotive professionals
Do not even try in a dream to put in the hands of Jan Kempynck a car with a downsized three-cylinder engine. This is the very example of what he fled by adopting a Renault Zoé as his second car in 2017, then replacing his BMW last year with a Renault Megane E-Tech.
Engineer in automotive, electronics and automation, but also preparer and developer of racing engines, he represents the third generation of a family fully involved professionally in this environment. It is not finished : " With two masters, my son is an engineer at Aston Martin in England ».
Make no mistake about it: with this business card, our Belgian reader seeks above all two things, the first of which is to create conditions conducive to confidences. The second is to bring the weight of experience and knowledge to its current interest in the electric vehicle.
Carrier start
At the age of 68, Jan Kempynck looks back on all the path taken by his family: " After the First World War, from 1918 to 1922, my grandfather had a garage built that could accommodate 100 cars. A blacksmith by profession, he sometimes made pieces himself that he had difficulty obtaining. At the end of the 1940s, my father joined the garage to prepare Simca engines. He liked to ride in Jaguars and MGs ».
Our reader knew them little: My father died when I was two, and my grandfather when I was eight. When I was 14, I bought books to learn mechanics and came to the garage. Two years later, I went to BMW and an aviation mechanic, starting engineering studies ».
It was during this period that he perfected hitherto unknown systems: I was already passionate about electronics at 14 years old. I invented a module for adjustable intermittent windscreen wipers and two years later an electronic capacitive discharge ignition with thyristor. Then I prepared competition engines for Opel and put my hands in Bosch L-Jetronic boxes. After two years in the army as a technical officer, I worked for this equipment manufacturer as a systems developer. On the cars, I had to identify the breakdowns that the others did not find ».
To their account
After tuning engines for racing teams Opel, Renault and Nissan, Jan Kempynck opened his own business: " At 32, I started my own business as a preparer. Between 1989 and 2000, I spent time developing engines for competition. In 1997, I worked on many BMWs ».
When he was invited by the German manufacturer to the Zolder circuit to discover a new car, our reader had a decisive encounter: " I only learned later that he was a top engineer at BMW. He would have wanted me to join the team to participate in the in-house development of Formula 1 engines. I had my clientele, I did not want to abandon them. ».
However, this did not discourage his interlocutor: " He answered me: 'All the engines that BMW will not have time to make, we will send them to you'. I took care of the pistons, the camshaft, the electronics. The engine I developed won two years in a row in the United States ».
No need to dream of a Rimac
Did you feel the level of passion that Jan Kempynck had for mechanics and electronics since his childhood? Can we reasonably imagine that this fan of the Lotus Esprits when he was young, and who made Colin Chapman his idol, has become a user of electric cars? " I bought the Renault Zoé to get to know and have a first experience of electric cars. I came out very happy, which made me decide to adopt the Megane E-Tech as my main vehicle for long distances, instead of my BMW. ».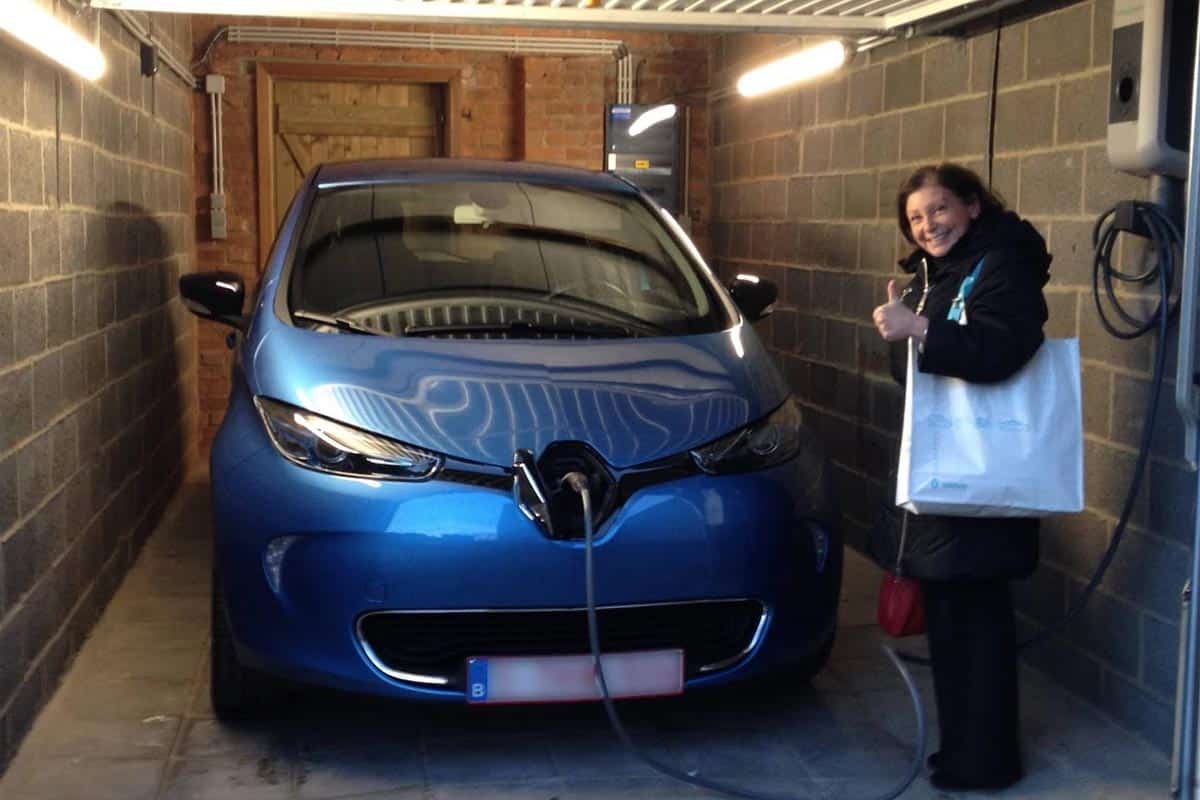 He had first made his choice on another model: " I wanted a Hyundai Ioniq 5, but had a lot of problems ordering it. I then went to discover the Megane which I found fantastic and very well finished. I am happy with this car with its beautiful, modern and sporty lines. I appreciate the Google integration. It's easy to plan your route home on Google Maps and find it directly in the car with a correct estimate of the battery percentage on arrival. Of course I could dream of a Rimac, but the Renault gives me what I need ».
What he generally likes about an electric car: " Its comfort and silence make driving more relaxed. And if you have to overtake, the torque is there instantly ».
Read also
Testimonial – Driving a lot, Catherine went from diesel to hybrid, with a Renault Arkana
No Tesla, Mercedes or BMW
How about a Tesla? " I take my hat off to Elon Musk for what he did with Tesla, but he doesn't have the experience of the old builders. I'm not talking about the electronics, the battery or the motor, but for example the suspension and other parts whose assembly is not that great. I would not have taken a Mercedes either because this brand is relatively new in electric mobility ».
And a BMW? " I have had several BMWs. Due to my health, I would already have to buy a 5 Series with the comfort seats. I must say that the comfort of the seats of the Megane E-Tech in Iconic finish, even with the 20 inch rims, suits me much better than any BMW I have had. I've been on long trips with it and I don't feel any pain or fatigue. At BMW, I don't like the long list of options. We know at what price we start, but not where it stops. It can go up to 30,000 euros ».
Jan Kempynck wanted to favor a pioneer: " Renault and Nissan have more experience in the EV. This is measured by the number of callbacks other constructors are forced to fire. Renault has really done something right. The rise in quality of the Zoé is really not bad. On the Megane, there are three trim levels with a few options. It is well equipped and offers a lot of driving aids that work well as standard. ».
A real surprise in his entourage
The choice of the former trainer in competition caused a stir around him: " My son thought it was not a good idea. He was almost upset, because I was the one who taught him the trade, encouraged him to compete in karting. He now understood my choice ". Others were also very surprised: Friends and colleagues haven't understood, because they haven't tried an electric car yet. You have to have a broad mind to do that. You can say it's not right only if you've tried it yourself ».
The reasons that prompted Jan Kempynck to adopt electromobility are quite unusual: " I'm not coming to say that I'm going to save the planet by driving an electric car. There are plenty of systems around thermal engines to pass the standards concerning exhaust gases. It's 30% of the price of the car, and enough to break down much more often than before. The engine that I have always loved so much, the Euro 7 standard will kill it completely ».
From the height of his experience, he can affirm: Take for example the particulate filter, it is almost impossible to travel only short distances without clogging. Electric cars have far fewer parts that make no difference between short trips and long trips. This is also what motivated me to ride an EV. No oil, no oil filter, no exhaust, no spark plugs: the maintenance only cost me 150 euros per year for the replacement of the cabin filter in particular. ».
Other savings
Also among the sources of savings with an electric car, an extended frequency for replacing the pads due to regenerative braking: " It can be the opposite with the tyres, due to the torque, but very dependent on the driving style. If I recharge at home, electricity only costs me a third of what I previously spent on diesel on an equivalent model. In addition, in Belgium we currently do not pay road tax on electric vehicles. ».
Regarding the batteries, he is confident about their durability and repairability: " Most manufacturers offer a full warranty of at least seven years. Insurance companies cover them in the event of an accident. The most serious vehicle brands now have specific centers, where the batteries can be repaired by simply replacing the cells or the defective parts. ».
Read also
Testimonial – In three years, Frank has saved more than 10,000 euros in fuel thanks to his Renault Zoé
Fake news unraveler
Don't tell Jan Kempynck that electric cars easily catch fire: " About 0.08% of thermal cars catch fire, compared to 0.01% for EVs. It is eight times less. In Germany, 40 thermal vehicles burn on average every day, but nobody talks about it ».
He points to the behavior of oil companies which " charge 2,600 euros per liter of synthetic fuel in the hope that the State will make up the difference to achieve a normal price at the pump. Enough to fill their pockets to grease the media and politicians in order to carry out already very active propaganda against the electric vehicle ". To the general public, he calls: Make no mistake and base it on real facts ».
These campaigns against EVs awaken some memories in him: " My grandfather told me that when he opened his garage in 1918, he also encountered a lot of opposition from horse breeders. It is therefore the same today for electric cars ».
To download to go further:
– Important dates for the four generations of Kempynck in the automotive industry (pdf file)
– List of engines prepared by Jan Kempynck (pdf file)
Automobile Propre and I would like to thank Jan Kempynck very much for his welcome, his testimony, his trust and the many family documents transmitted.
Author's opinion
As I explained in a previous article, the face of electric car users has changed a lot in 2023. Jan Kempynck's testimony widens their diversity even further. Which shows in particular that electric cars are desirable today because of their qualities in use.
This interview is a real nugget because we have here a competition engine preparer who would have liked to continue to drive with cars that broadcast certain sounds. I also feel a boredom for myself driving with cars equipped with these famous downsized engines. An old thermal, yes, I would still experience the same pleasure that I once knew, but modern mechanics, no. And how to intervene on it today yourself?
Collecting the testimony of Jan Kempynck, I almost had the impression of discussing with my father, also very involved in the automobile. He had been surprised by my switch to electric. I see the expression of a person offended on his face. But two or three years later, he told me that I was right. Coming from someone who communicates little, and in any case not for nothing, it meant a real reflection and a desire to be associated with my approach.
I hope that our readers will fully appreciate the comments made in this article.
---