We're already on the ninth episode of our series and now it's time for our now electric Skoda to be covered in its new color. But we didn't go to just any bodybuilder…
We cannot say that the aesthetic developments that we concocted for our 1969 Skoda Octavia Combi, now electric, were unanimously unanimous when we revealed them in the previous episode published last week. The skirts on the rear wheels, custom designed by Style & Design, were rather well received, but the same cannot be said for the massive shield borrowed from a Volkswagen Golf Mk1 racing in the Berg Cup. I admitted it myself, I wasn't totally won over myself, but I decided to keep my final judgment once the car was completely covered in its incredible final color, the Explorer Green of the Skoda Vision 7S concept unveiled last year. And that's precisely on the program, among many other things, for this week's episode.
Read also
Skoda Vision 7S: we boarded the 7-seater electric SUV
This time again, we returned to Seine-Maritime. Not at TechnoMAP as for the electrical conversion, but at Meca Retro Sport 76a small garage specializing in old cars and founded by none other than Aurélien Letheux, the mechanical branch of the show's duo Wheeler Dealers France which he presents with Gerry Blyenberg on RMC Découverte. Yes, we don't deny ourselves anything. And it is an honor done to us, since it is the very first electric car to enter this workshop which smells deliciously of bouclard in the purest traditional style, with, at various stages of restoration or optimization, a line-up of historic vehicles from the 70s and 80s, including, due to the proximity of Dieppe, many Alpines.
But if our Octavia stands out here with its new mode of propulsion, it is perfectly in the spirit of its four-wheeled sisters of the same era in terms of damage left by the ravages of time. It was in fact necessary to first treat the rust which, like the chassis, also attacked the bases, like the right front floor which had to be completely cut out and replaced. Stripping the bodywork was not easy either since the little Skoda was covered with numerous layers of paint, some of which were very thick, before taking care of the front fenders which had visibly, over the 54 years of life, had some unexpected, but nevertheless brutal, contacts with Tatras, mailboxes or perhaps lime trees, the Czech national tree as everyone knows.
Read also
Testimonial – Philippe put a Tesla Model 3 engine in his DeLorean DMC-12!
Then came a good coat of primer before, finally, this extraordinary painting. However, due to the concept, there is no official reference for the latter and therefore no exact formula, so we had to use a spectrometer on a sample sent to us by Skoda Europe to recreate the color. The difficulties do not end there, since the matte and metallic effect is complex to render. But it was worth it: I find that this green suits the Octavia perfectly, bringing out its pretty curves under the light, and offers a mix between tradition and modernity perfectly in the spirit of the project. Finally, this allows the famous generous shield to be integrated much better before I start to like it.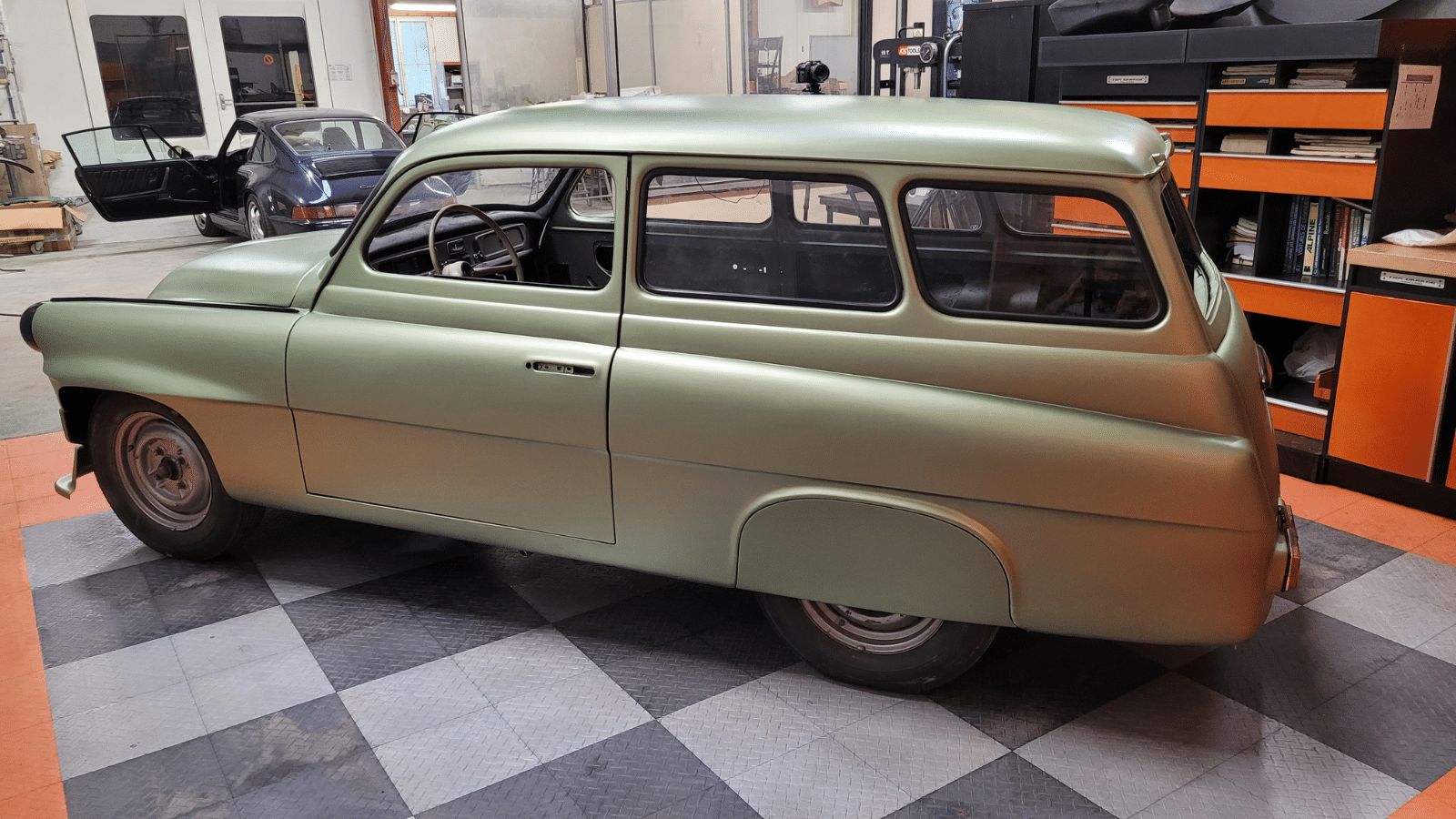 All chrome elements of the bodywork have been changed to satin black for various reasons. Firstly because the emissions caused by the chrome plating process are estimated to be 500 times more toxic than diesel and can cause serious health problems including lung cancer. Then, because it was very simple to restore the beauty of tired and otherwise unobtainable elements. And finally, quite simply because we found that it also made an interesting contrast with the painting.
You will also notice that our Skoda now sports a more rounded Octavia phase 1 grille, to replace the less elegant phase 2 grille with which it left the factory. An operation which proved, once is not usual on this project, easy to carry out, just like replacing the particularly damaged original orange indicator lenses with white elements from R8 Gordini, which is particularly in the spirit of the region since the Renault generously served as an organ bank for the original Alpine A110.
Read also
Retrofit: Renault launches an electric R5, but not the one we expected
Now let's talk about wheels, an area dear to my heart. What may seem incidental is, however, a necessity here since the inner part of the sheet metal rims was badly damaged and it goes without saying that the retreaded tires which had remained flat for years needed to be replaced urgently. We also wanted, for the former, to move to lighter aluminum elements, and, for the latter, to have modern rubber with the efficiency that goes with it, by modifying the dimensions of the whole. But in this area either, this Skoda does not do things like the others since the center distance of the rims, that is to say the distance which separates the wheel fixing holes, is very particular: it is in effect of 4×130. It was also necessary that the central bore be large enough to allow a surprisingly large diameter hub to pass through and that the offset – the distance at which the rim moves away from the hub – be reasonable enough not to touch our famous rear skirts on measure. It also had to be thin enough to fit the tire we were planning to fit. Oh and then obviously, we didn't want a design that was too modern.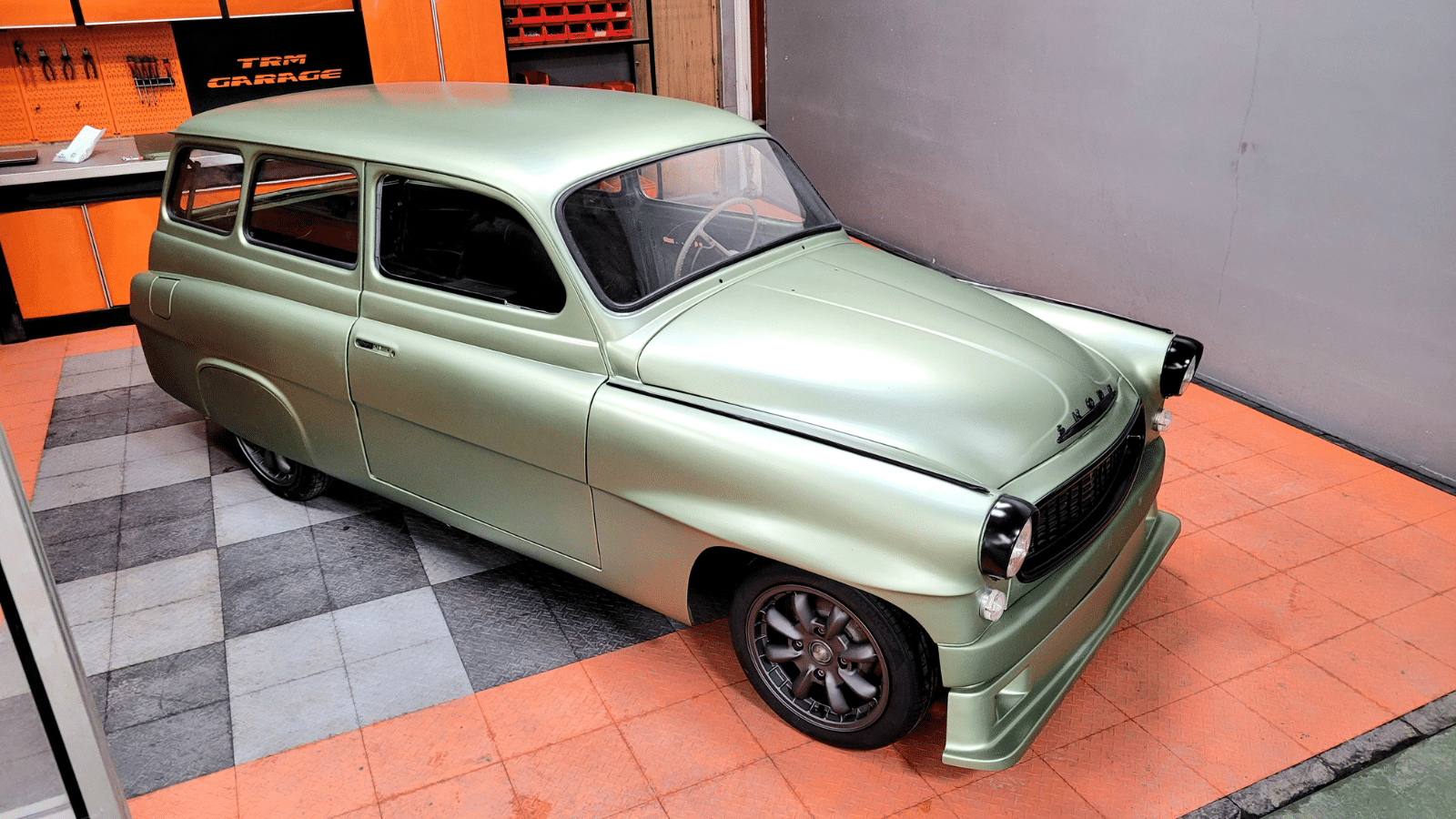 In short, very complex specifications when you don't want to go tailor-made and which caused me a few sleepless nights surfing the internet. In the end, my research allowed me to determine that only one mass-market car had the same characteristics, the Volkswagen Beetle, but be careful, only the one produced from 1970 to 1979. Fortunately, it is a model that still remains extremely popular today, and we finally had the choice between precisely three models of rims that were more or less easily found. In the end, we opted for Enkei Compe in 5.5×15 which we found at the very efficient official importer of the brand TogheïShop, with a retro style that goes perfectly with the car and is infinitely lighter than the original sheet metal rims, even though they are 5×14. They were covered with modern tires, Hankook Kinergy Eco 2 in 145/65R15, the thinnest tire offered by the Korean equipment manufacturer which is also found on the front of a Mitsubishi i-Miev and against 185/ Original 70R14. In the end, we therefore have both lighter wheels with a smaller footprint, thereby reducing friction, and nevertheless much superior road holding performance.
You still have to be able to mount them, these wheels. And it was a resounding failure since we expected to eventually have some difficulty at the back so as not to touch the skirts, which is the case and which will require a return to Style & Design for a little additional sanding, but not at the front. Despite the diameter of an extra inch, the particular design of the interior of the Enkei means that you touch the steering link. Everything fits together, but the wheels can't turn, which, let's face it, is annoying for a vehicle. However, nothing is insurmountable: solutions exist like track wideners and that's the game when you want to do a unique project, but it's still frustrating, I won't hide it from you.
Next week, we leave Seine-Maritime again to return to Style & Design to tackle what is undoubtedly the last big piece: the interior. And here again, we have made ambitious choices which should generate a lot of digital ink…

Previous episodes:
Read also
Turbo vs Clean Automobile: here is the unique challenge launched by Skoda!

Read also
Voltavia Project – We are showing our project to Rétrofuture, will they agree to help us?

Read also
Voltavia Project – We found OUR 1968 Skoda Octavia: half rust, half putty?

Read also
Voltavia project – Which engine and which battery for our retrofit? You will know everything!

Read also
Voltavia project – Battery, motor, charger and charging socket: the electrical transplant begins!

Read also
Project Voltavia – Our 1969 Skoda Octavia Combi is officially electric!

Read also
Voltavia Project – We are driving our electric Skoda Octavia for the first time!

Read also
Voltavia Project – Can we make our electric Skoda Octavia more aerodynamic?
rewrite this content and keep HTML tags