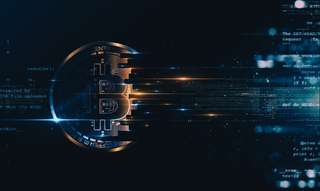 The Commission for the Enrichment of the French Language has formulated its proposals in terms of crypto language and some are very curious as "indexed cyberjeton" for stablecoin!
You will also be interested

[EN VIDÉO] Cryptocurrencies, how does it work? Like Bitcoin, there are more than 6,000 cryptocurrencies in the world today. These currencies are based on blockchain technology.
It is an announcement that for the most part has gone unnoticed. On January 22, 2022, a list of terms called "Vocabulary of economics and finance", was published in the Official Journal (OJ). The text gate number 58 and identification CTNR2201287K.
The astonishing point of this list is that there are several terms in the field of cryptocurrency with each time an official definition but also a French term supposed to become official, and which it is nevertheless difficult to imagine that it can make the object of normal use.
What's in this list? Usual terms rather well adapted. Thus, central bank currencies called CBDC in English (Central Bank Digital Currency) are given the official name MNBC, i.e. Central Bank Digital Currency. The " future price which is often found on platforms like Binance or FTX and which designates the price of an asset as it is expected at a future date is translated as "forward price", which is again rather well thought out . More surprisingly, while the term "cryptocurrency" seems to have entered common usage, the OJ list proposes to translate " cryptocurrency » by "cybercurrency".
The curiosities of the OJ list
And then we find some rather curious adaptations. Let's just judge.
"Tokenization", i.e. theepisode of a token (live) associated with an activity – for example the AXS, a currency that players can earn by playing Axie Infinity – is translated as "token conversion". Such a name is not necessarily adequate, especially since the definition proposed by the OJ is more explicit: " Issuance, by means of a shared electronic recording device, of cyber tokens which are backed by an asset, in particular with a view to facilitating the sale of all or part of this asset. »
Even more surprising is the term chosen for "stablecoin", these currencies such as USDT, l'UST or the DAI whose value is always equal to 1 dollar or AgEUR from Angle Labs whose value is equal to one euro. "Stablecoin" becomes, at your choice, "indexed token" or "indexed cybertoken". It is hard to imagine that this term could enter everyday language.
Enrichment of the French language?
Who is the origin of these names? A section of the Ministry of Culture, the Commission for the enrichment of the French language whose primary mission is to create new terms and expressions in order to fill in the gaps in our vocabulary and to designate in French the concepts and realities that appear under foreign names ". Its proposals are validated by the French Academy.
Will the terms prescribed here fit into our usual vocabulary? We find it hard to believe. It is likely that we will continue, even within the language of Molière, to speak of stablecoins and cryptomonnaies. To believe that in parallel to the official language, there exists above all the commonly used language and that it is this one which could well end up finding its place in the dictionaries!
Interested in what you just read?
.