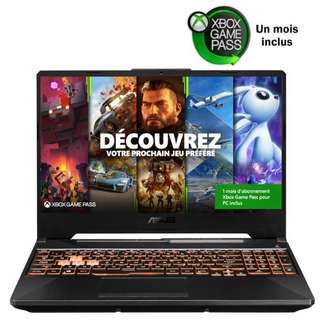 Do you like playing video games on your computer? Equip yourself with suitable equipment so that your computer is efficient and resistant over time, games require a lot of resources! Currently, the ASUS FX505GT-HN004T gaming laptop is at a discounted price, you can buy it for only €699.99 instead of €799.99.
The ASUS FX505GT-HN004T gaming laptop, in detail
This ASUS laptop is equipped with an Intel Core i5 processor (9th generation), 8 GB of RAM and 512 GB of storage. The 15-inch anti-reflective Full HD screen translates colors and contrasts well for gaming in the best conditions. It is equipped with an NVIDIA GeForce GTX 1650 graphics card, this laptop is capable of running many games. The keyboard is backlit which is very useful in low ambient light. It is a robust and versatile computer oriented creation and game, the graphics card speeds up processing when using powerful software such as Adobe Photoshop, Illustrator … SSD storage enhances fluidity and responsiveness compared to a simple hard drive .
The components of this computer make it possible to transcribe fluid images and perfect graphic rendering on the screens. For gamer use, this Asus laptop is perfectly suited. The dimensions of the computer are perfect for mobile use, you can use it at home or on the go. The Intel Core i5 (10th Generation) processor has excellent computing power to accomplish big tasks
Why choose an ASUS gaming PC?
ASUS is one of the best brands when it comes to computer hardware. The computers are very qualitative, ASUS masters many components compared to other manufacturers who are more dedicated to assembly. It is certainly for this reason that their PCs are reliable. Many times, the ASUS brand has been rated as the best builder and the most reliable manufacturer thanks to its low product return rate. ASUS offers several ranges, high-end and mid-range quality. The brand offers computers that adapt to everyone, whether for experienced gamers, design professionals or students who are looking for high-performance hardware.
.