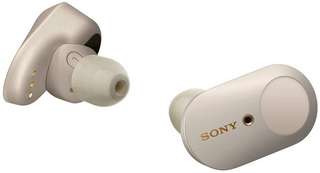 There are a multitude of Bluetooth headphones available on the market, but which one to choose? The sound quality is one of the most important criteria when deciding to equip yourself with wireless headphones. The Sony WF-1000XM3 Bluetooth headphones are on sale on Amazon, the price goes from €250 to €129.99, i.e. a reduction of €120 on your order.
Introducing the Sony WF-1000XM3 Bluetooth Headphones
The Sony WF-1000XM3 headphones are definitely the Airpods' best competitors. They are equipped with exceptional noise reduction and can reach up to 24 to 32 hours of battery life using the charging case. You can lower the music volume and amplify the sounds of your surroundings with the Quick Attention feature. It is possible to adjust the noise reduction, answer calls and choose the music to listen to using the touch controls. The NFC is integrated as well as the Bluetooth and the headphones are compatible with Alexa. These Sony earphones have an irreproachable quality, the price is justified compared to the characteristics. The sound is good, compared to Airpods we can even say that the sound quality is superior.
The positives of these Bluetooth headphones
Among the strengths of the Sony WF-1000XM3 Bluetooth headphones, battery life is a real advantage, active noise reduction is effective and the sound is excellent. These headphones are very easy to use, as well designed as the Airpods, when you remove the headphones the music stops instantly. To execute commands, it is possible to chat with Google Assistant. With a simple press, reconnect to the outside world by decreasing the noise reduction. The design of these headphones is successful, they are elegant, comfortable and fit in the ears is good. Overall, these headphones are excellent!
.