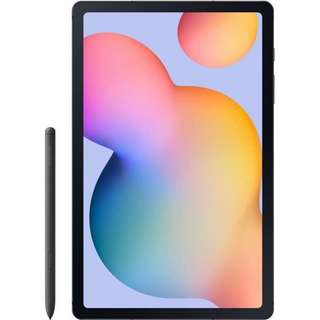 Do you want to enjoy an excellent multimedia experience on a tablet? Samsung offers high quality touchscreen tablets, the brand has established itself as a leader in the Android tablet segment. During this sales period, the Samsung Galaxy Tab S6 Lite tablet is displayed at only €299 on Cdiscount.
Introducing the Samsung Galaxy Tab S6 Lite tablet
This touchscreen tablet is 10.4 inches, the screen occupies 80% of the space with Full HD resolution and the borders are very thin. The format is compact with its dimensions of 15.4 cm in length and 24.4 cm in height, it slips easily into a bag. The finishes are neat, the back of the device and the aluminum contours give a premium appearance. To take photos, the rear sensor is 8 megapixels and the front sensor is 5 megapixels. The two speakers deliver powerful sound without distortion even when you turn up the volume, they are signed AKG. You will have the advantage of being able to enjoy a great viewing experience for films and series! This model is equipped with 4 GB of RAM and 64 GB of storage.
A good Android touchscreen tablet
The Samsung tablet comes with its S Pen stylus which is precise, you can draw to bring all your ideas to life! The autonomy of the Samsung Galaxy Tab S6 Lite is comfortable thanks to a 7040 mAh battery, with intensive use the battery can last for more than 9 hours without needing to be recharged. The 5:3 format is particularly ergonomic. This is a good tablet that can be used at home, ideal for multimedia use. Users seem mostly satisfied with this Android tablet which meets their expectations.
.