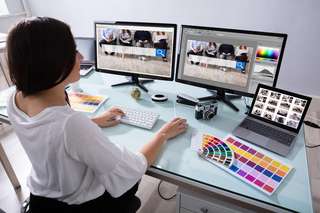 Do you dream of becoming a Web Designer, to give free rein to your imagination and creativity? Web jobs are in demand and there are more and more job offers in this field. Web design is essential when creating a website, the Web Designer intervenes to make the site visually more attractive.
Save and take advantage of the latest deals and tips to buy at the best price.
You will also be interested
The web designer realizes the visual identity of a website according to the expectations of the client and the technical constraints. He defines the specifications, the ergonomics, the tree structure, the navigation mode, the graphic charter… To become a Web Designer, you must have both technical skills and an artistic sense.
Presentation of the training: becoming a Web Designer
In this complete course, you will learn how to format different elements of a website: buttons, form, FAQ… After this training, you will be able to design the design of a website with a home page, a header and a footer. You will have the necessary information to export your images and icons in the appropriate format. For creating beautiful visuals, Photoshop and Adobe XD tricks will be revealed to you.
This training will allow you to have the skills to create Wireframes, it is a tool that brings many advantages. Knowing how to present your work is essential to convince your clients and have their approval, which is why in this course you are given all the keys to success. By following the advice, you can be ahead of the trends and you will always find good ideas. Finding customers is not always easy, that's why in this training we guide you in this direction, to attract your customers.
To follow this Udemy course, no particular skills are required but you must know the basics of graphic software such as Photoshop, Illustrator… This training is aimed at beginners and intermediates, students, freelancers or people in retraining.
5 good reasons to become a web designer
The profession of Web Designer is highly sought after and has potential for the future, each company uses and develops a website this tool has become essential. If you are creative, curious, like graphic design and the internet, this job is for you! By following a training, you will learn the techniques to define the best visual identities of a website. You will have the freedom to choose your status, as in most digital professions. Do you prefer to be a freelancer or work in a company? By being independent you manage your schedules as you wish and according to your inspirations of the moment.
The Web Designer is essential to the communication of a company, the image of a brand is built partly thanks to the graphic charter and the visual elements. Your work will quickly become indispensable. You will have to put your creativity at the service of a project, the profession of Web Designer and often a profession of passion. Many people dream of making a living doing something they love, so why not you?
Interested in what you just read?
.