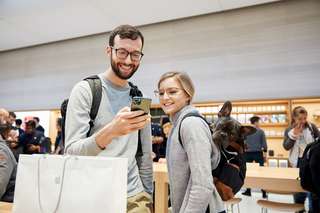 It's been a long time since theiPhone is no longer just for making calls, having fun and surfing Internet and the social networks. From now on, it can also act as a key to open a hotel room or to start a car. Soon, he could add a new string to his bow: payment terminal.
According to Bloomberg, Apple would indeed intend to add this new functionality on the occasion of a next update ofiOS (15.4). It would be a logical continuation after the acquisition, two years ago, of the startup Mobeewave, which specializes in this technology. Becoming a payment terminal will also be made possible by the presence of a chip NFC in L'iPhone.
However, many gray areas remain, starting with whether this new feature will be directly integrated into Apple Pay or whether it will be the subject of a new application specific. It also remains to be seen whether payments will only be accepted from another iPhone or any terminals mobiles with an NCF chip.
In any case, the idea would be to make it possible to collect payments with iPhone, without the intermediary of a dedicated terminal as is the case today. This would mainly concern small payments between individuals or between customers and auto-entrepreneurs/SMEs (deliverymen, restaurateurs, hairdressers, etc.). However, no ceiling has been communicated by Bloomberg.
As usual, this new service should be offered exclusively in the United States, before (perhaps) being extended to the rest of the world.
.