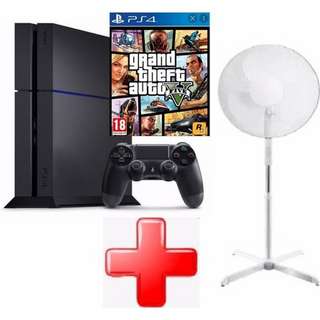 Are you more PlayStation or Xbox? These two consoles are very similar in terms of their power, however the PS4 is a little more efficient, in particular thanks to a better computing capacity and sufficient RAM for a smoother gaming experience. The PS4 is on sale on Cdiscount, it goes from €499.99 to €389.90.
Presentation of the PS4 console
This 500 GB games console comes with a controller, the game Grand Theft Auto V and an adjustable stand fan. Game consoles become real decorative elements in your living room, the PS4 has a sleek look and contemporary lines. It has a long light strip which gives it a current, modern and luxurious look. The PS4 console is quite compact and light, it is 27.5cm in height, 53cm in width, 30.5cm in depth and its weight is only 2.76kg. It's a console that stands out for its design, controller and performance. The PS4 games catalog is particularly impressive, you will find some exclusive games. The services available give the possibility of playing online to face opponents all over the world.
Grand Theft Auto V game
In this action and adventure game in the open world, you will be in the shoes of 3 characters: Trevor, Michael and Franklin. In your daily life, you will have various missions and robberies to carry out. A bank robber, a young hustler and a terrible psychopath must survive in a merciless city by carrying out a series of robberies. They can only count on themselves, distrust is mandatory! Explore this vast world and earn money through a criminal career by joining a team. You can buy vehicles and apartments, improve your character and then best face your formidable opponents.
.