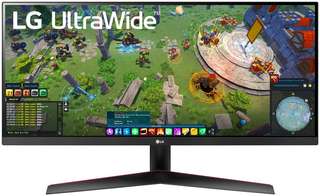 Being equipped with a good computer screen brings additional comfort when using our PC! Some prefer to work on large screens and to play games, a large screen can enhance immersion in the game. On Amazon, during the sales, the LG UltraWide 34WP65G-B PC screen is displayed at a discount of 289, €99 instead of €349.99.
Introducing the LG UltraWide 34WP65G-B Monitor
This 34-inch screen has a Full HD resolution (2560×1080), it is ideal for gaming or for work. You can view multiple documents at the same time to increase productivity. Work by putting your documents side by side easily. During a videoconference, you will be able to directly access more content and see more participants. For gaming, AMD FreeSync technology helps eliminate screen tearing and stuttering, improving the gaming experience. Your games will run extremely smooth with a low response time of just 1ms to enhance fluidity of the game. Thanks to the IPS display (with 99% sRGB) the colors are magnificent and the viewing angle is particularly wide. HDR 400 technology improves contrasts as well as colors which are very precise.
A PC monitor with an ergonomic design
The LG UltraWide screen gives the possibility of reducing blue light to reduce eye strain. It is possible to activate the reading mode to obtain colors identical to that of the paper in order to read in the best conditions. It is an ergonomic screen, the height is adjustable as well as the inclination to be in a suitable position. Being in a good position while on the computer is important for our health, especially when we spend a lot of time in front of our screens. An optimal position reduces back pain, considerably improves well-being and limits fatigue.
.