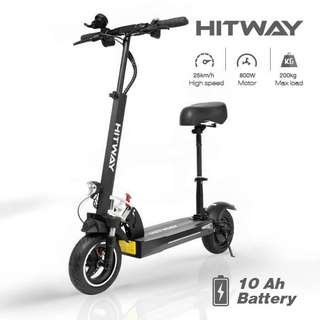 Electric scooters allow you to travel faster in the city, since you can easily avoid red lights and traffic jams on the road. This means of transport is increasingly used by city dwellers who want to shorten the duration of their journeys. Take advantage of the Cdiscount reduction on the HITWAY electric scooter, which goes from €999 to €479.99.
A powerful and comfortable electric scooter
This electric scooter for adults is equipped with a removable seat, the power of its electric motor is 800 W which is rather substantial. It can cover a maximum distance of 40 km thanks to its Lithium-Ion battery which offers a long autonomy. The HITWAY scooter can reach a speed of 25 km/h, which corresponds to the regulatory speed in France. An anti-theft mechanical lock system is integrated, to drive the scooter it is necessary to unlock the lock using the key. An LCD screen indicates interesting information such as real-time speed, accumulated mileage, cruise control…
The HITWAY electric scooter meets user expectations
The HITWAY electric scooter can climb slopes of 15° which is generally sufficient. It can accommodate a maximum load of 200 kg which is larger compared to many other scooters available in the market. User reviews are very positive on the HITWAY scooter, assembly is simple and the quality of manufacture is there. A USB port next to the screen gives the possibility of recharging your smartphone. You can use the scooter at night safely thanks to LED headlights and brake lights. The seat is comfortable and tight for a pleasant driving experience even on rough roads.
.