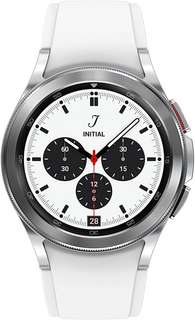 Connected watches offer many useful features, they are very popular! They are gradually replacing classic watches and the models are diverse and varied, we find them in all shapes. During the winter sales, Amazon displays the connected watch Samsung Galaxy Watch 4 (42 mm) at a reduced price, you can order it at 269 € instead of 369 €!
The Samsung Galaxy Watch 4 connected watch, elegant and light
This Samsung connected watch is recent, it was marketed in August 2021. Its design is successful and the watch is light, pleasant to wear on a daily basis. It is equipped with an OLED screen which offers a certain comfort of use, the brightness is sufficient for good readability in direct sunlight. The Galaxy Watch 4 is IP68 certified, it is resistant to water, to immersion for 30 minutes at a depth of 1.5 meters. You can use it for swimming or surfing without risk of damaging it. This connected watch is only compatible with Android smartphones. It is possible to customize the interface of the watch, the home screen, the colors, the order of shortcuts and applications. In the Samsung Heath application, we discover a lot of health data: minutes of activity, number of steps, calories, heart rate, sleep…
A watch connected to precise data
The sensors of the Galaxy Watch 4 connected watch are precise, it includes a barometer, an accelerometer, a gyroscope, a GPS, a heart rate monitor, a sensor for the analysis of body impedance and a sensor dedicated to the electrocardiogram. GPS tracks your position, location is automatically activated. You will find many statistics regarding sleep tracking, including rest time. The interface of this connected watch is particularly well designed and the watch is pleasant to use on a daily basis.